FOR IMMEDIATE RELEASE: March 9, 2023
Press Release: 23-0010
Alaska DOT&PF & Goldbelt pursue feasibility of Cascade Point Ferry Terminal
Sailings from Cascade Point would increase service in N. Lynn Canal.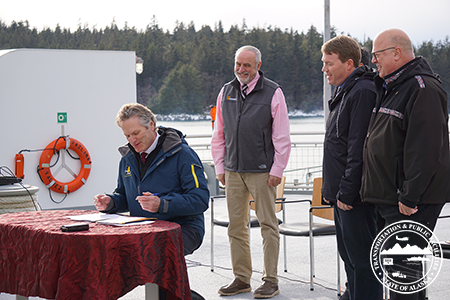 Governor Mike Dunleavy, Bruce Swagler, VP of Operations -Tidewater Group,
and DOT&PF Commissioner Ryan Anderson aboard the MV Tazlina during MOU signing ceremony.
(Photos by Sam Dapcevich, Alaska DOT&PF)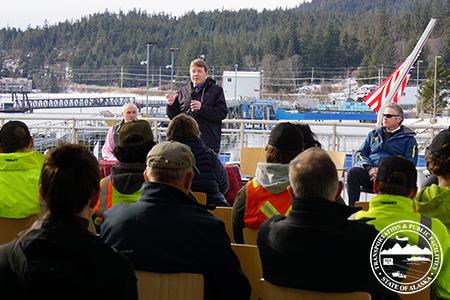 (JUNEAU, Alaska) – Alaskans traveling in Northern Lynn Canal could see more frequent sailings if evaluations show that building an Alaska Marine Highway ferry terminal at Cascade Point, is feasible. Alaska DOT&PF and Goldbelt, Inc signed an agreement today to work cooperatively on feasibility studies, engineering evaluations, cost estimates environmental permitting for the potential site, just north of Juneau, Alaska at approximately MP 42 of Glacier Highway.
"This is about supporting the economy of Southeast Alaska—and making travel for Alaskans more efficient and more affordable," said Governor Mike Dunleavy.
In a report from October 2020, the AMHS Reshaping Work Group estimated that a ferry terminal at Cascade Point would reduce Juneau-Haines and Juneau-Skagway one-way sailing by about 30 miles, or 2.1 hours. The reduced time, and more frequent sailings, would result in decreased costs per trip, and would enable AMHS to pass saving along to passengers through fare reductions.
"Improving ferry service between North Lynn Canal, Alaska's capital city, and our contiguous National Highway System is critical for the movement of people in Southeast Alaska," said Alaska Department of Transportation & Public Facilities (DOT&PF) Commissioner, Ryan Anderson. "This agreement will support the research to see if a ferry terminal at Cascade Point will help us meet that goal."
The Memorandum of Understanding (MOU) signing ceremony was hosted on the M/V Tazlina and is the next step in determining if a ferry terminal is feasible. While considered for many years, the DOT&PF recently advertised for professional engineering services to evaluate the feasibility and design of the new ferry terminal facility. The MOU between DOT&PF and Goldbelt will support that effort, which is pending evaluation by the department. Once the study is complete, the department will conduct a robust public engagement effort before making a decision about whether to move forward with a capital project.
Historically, the North Lynn Canal route is the Alaska Marine Highway System's (AMHS) second-largest volume run, just behind the route from Bellingham, Washington northward. Residents and elected leaders of the area have frequently expressed the need for additional sailings.
The Cascade Point Ferry Terminal is currently estimated at $36 million. The conceptual site plan includes an unmanned day-use terminal, single-end loading ferry berth, and 50' Cascade Creek Bridge, leading to a staging and parking area. The terminal building would include a generator shed, pit-style restrooms, including ancillary support infrastructure such as a 10,000-gallon sewage holding tank, 5,000-gallon fuel storage tank, electrical generation, and potable water.
The Alaska Department of Transportation and Public Facilities oversees 237 airports, 9 ferries serving 35 communities along 3,500 marine miles, over 5,600 miles of highway and 839 public facilities throughout the state of Alaska. The mission of the department is to "Keep Alaska Moving through service and infrastructure."
# # #