FOR IMMEDIATE RELEASE: March 8, 2023
Press Release: 23-0009
Alaska Marine Highway & Troopers Renew Agreement for Protection on Ferries
Increased presence on ferries will provide extra security for Alaskans.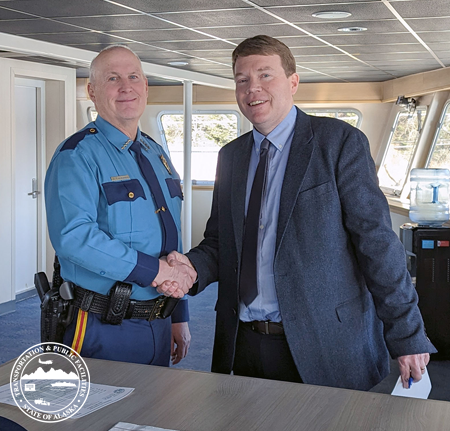 Department of Public Safety Commissioner James Cockrell and Department of Transportation & Public Facilities Commissioner Ryan Anderson.
(Photos by Sam Dapcevich, Alaska DOT&PF)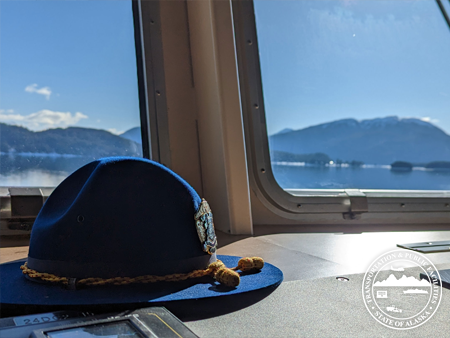 (JUNEAU, Alaska) – Alaskans will see an increased law enforcement presence when traveling the Alaska State Ferries this summer with the renewal of the Alaska Marine Highway System (AMHS) Ride-Along program. The program allows AMHS to provide space-available travel aboard its vessels, free of charge, in exchange for law enforcement presence and services by State Troopers.
Under this renewed agreement, Alaska Department of Public Safety (DPS),and Alaska State Troopers (AST) are eligible for complimentary travel when traveling for personal reasons, on a space available basis. This increases protection of life and property aboard AMHS vessels with a more frequent, visible AST presence aboard ships.
"We're increasing protections for Alaskans in a variety of ways," said Ryan Anderson, Commissioner of Alaska Department of Transportation & Public Facilities (DOT&PF). "In 2022, we renewed our support of the drug enforcement K-9 unit in Bellingham, started participating in anti-human trafficking measures, and in 2023, we are reviving the Ride-Along program that benefits both AMHS and AST."
"The Alaska State Troopers have participated in the Ferry Ride-Along program for several years, and it has helped increase the safety of our ferries traversing coastal Alaska," said Alaska Department of Public Safety Commissioner James Cockrell. "We are constantly working with our partners across the state to meet our critical mission of ensuring public safety and enforcing fishing and hunting regulations, and this program is a perfect example of a program that impacts the safety of many Alaskans."
The Alaska Department of Transportation and Public Facilities oversees 237 airports, 9 ferries serving 35 communities along 3,500 marine miles, over 5,600 miles of highway and 839 public facilities throughout the state of Alaska. The mission of the department is to "Keep Alaska Moving through service and infrastructure."
# # #