FOR IMMEDIATE RELEASE: March 2, 2023
Press Release: 23-0006
DOT&PF & Northwest Arctic Borough Partner in Regional Planning Organization
RPO is state's third and will increase cooperation for transportation projects.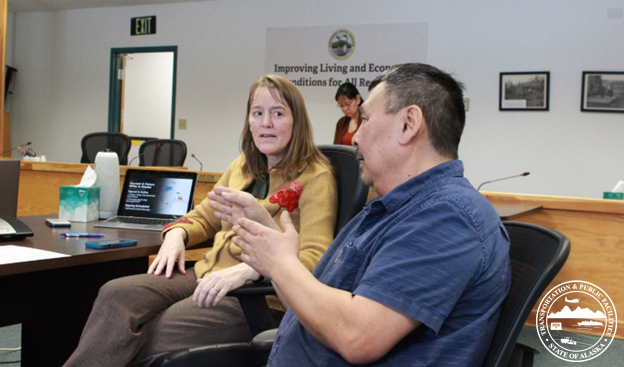 (KOTZEBUE, Alaska) – Residents of the Northwest Arctic Borough have a new partnership with Alaska Department of Transportation & Public Facilities (DOT&PF) supporting the development of transportation projects in their region. In a signing ceremony held on Tuesday, Feb. 28, DOT&PF's Judy Chapman, Deputy Director of Planning and the Northwest Arctic Borough mayor Dickie Moto, Sr. signed a cooperative agreement establishing a Regional Planning Organization (RPO).
The RPO establishes a vehicle for the Northwest Arctic Borough (NAB) and DOT&PF to work together on transportation development priorities for the Northwest Arctic Census area of Alaska. It is the third RPO to be created in the past year, following the Copper Valley in August 2022, and the Fairbanks North Star Borough in January 2023.
"The formation of the RPO will allow the region to amplify its voice with respect to transportation planning decisions that affect it. We look forward to working with the new NAB RPO," said Chapman.
This Pilot RPO will ensure regional and local input to identify local transportation needs and allow for better planning, prioritization, and decision making with DOT&PF's capital project development.
Now that the cooperative agreement is signed, "It's good to see what we need to do and to move projects forward now," said Mayor Moto.
There are several different types of transportation planning organizations, such as a Metropolitan Planning Organization (MPO) and a Regional Transportation Planning Organization (RTPO). Each of these planning organizations, including the RPO, is formed to give communities a voice in transportation planning and spending. The benefit of starting an RPO is to allow flexibility while rural regions develop capacity to participate in a wide range of transportation planning efforts.
The new RPO, the first in western Alaska, encompasses 11 communities, including Kotzebue, Noorvik, Selawik, and Deering, as well as the Red Dog Mine. The population of the Northwest Arctic Borough is approximately 7,800 according to the 2020 census.
The Alaska Department of Transportation and Public Facilities oversees 237 airports, 9 ferries serving 35 communities along 3,500 marine miles, over 5,600 miles of highway and 839 public facilities throughout the state of Alaska. The mission of the department is to "Keep Alaska Moving through service and infrastructure."
# # #