FOR IMMEDIATE RELEASE: January 25, 2023
Press Release: 23-0004
DOT&PF Statewide Aviation Employee Rebecca Douglas wins national award from Aviation Pros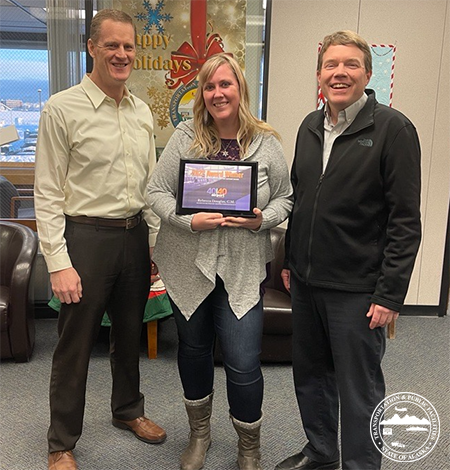 (ANCHORAGE, Alaska) – Rebecca Douglas, a 12-year employee of DOT&PF won a spot on the 2022 Airport Business top 40 under 40 from Aviation Pros magazine.
"Rebecca is a dedicated aviation professional who raises the bar at DOT&PF's Statewide Aviation. Through her work, she has improved transparency with our industry partners and improved the public's access to information," said Commissioner Ryan Anderson, Alaska Department of Transportation & Public Facilities (DOT&PF).
This national recognition is given to outstanding professionals in aviation who are under 40, with a particular focus on those who bring innovation to the industry. Nominations must be submitted by a coworker and final selections are determined by the editorial board of Aviation Pros.
Rebecca Douglas is known throughout Alaska DOT&PF for her dedication to the Alaska Aviation System Plan (AASP). In recent years she has worked hard to provide as much aviation information virtually, from NOTAM queries to grant history, making it widely accessible to the public.
"We are lucky to have her," said John Binder, DOT&PF Deputy Commissioner. "Managing the largest system plan in North America is challenging, but Becca excels at it. The entire aviation community benefits from her hard work."
The Alaska Department of Transportation and Public Facilities oversees 237 airports, 9 ferries serving 35 communities along 3,500 marine miles, over 5,600 miles of highway and 839 public facilities throughout the state of Alaska. The mission of the department is to "Keep Alaska Moving through service and infrastructure."
# # #