FOR IMMEDIATE RELEASE: Aug. 15, 2022
Press Release: 22-0036
DOT&PF and Copper Valley Development Association Partner for
Pilot Program
First Regional Planning Organization in Alaska will help prioritize area transportation funding.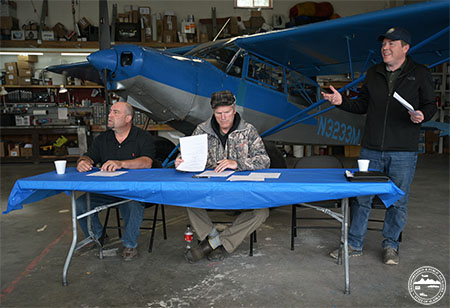 (FAIRBANKS, Alaska) – The first Regional Planning Organization (RPO) was established in Gulkana, Alaska over the weekend when Governor Mike Dunleavy signed a cooperative agreement between the Copper Valley Development Association (CVDA), and the Alaska Department of Transportation & Public Facilities (DOT&PF). The RPO pilot program will establish a structure for local and regional input and information exchange on transportation planning and prioritization for the Copper Valley Census Area.
"Supporting the communities of Copper Valley in their efforts to build and expand their economy through infrastructure development is rewarding," said Governor Dunleavy. "I look forward to hearing more about what this new partnership can accomplish."
There are several different types of transportation planning organizations, such as a Metropolitan Planning Organization (MPO) and a Regional Transportation Planning Organization (RTPO). Each of these planning organizations, including the RPO, is formed to give communities a voice in transportation planning and spending. The benefit of starting an RPO is to allow flexibility while rural regions develop capacity to participate in a wide range of transportation planning efforts.
"It is exciting to partner with communities for the future of transportation," said DOT&PF Commissioner Ryan Anderson. "Direct community involvement in transportation planning builds a more resilient transportation network."
The Copper River Census Area includes Copper Center, Tazlina, and Gulkana. The Copper River Region is an Unorganized Borough with no municipalities or other form of governmental organization. The region includes the Gulkana Airport, a regional hub, the Glenn and Richardson Highways, which offer surface transportation links to Anchorage, Valdez and Fairbanks.  Additionally, the Copper River Census Area has two Alaska Highway System routes, the McCarthy and Nabesna Roads, which connect to the Wrangell-St. Elias National Park, which is the largest national park in the United States.
The Alaska Department of Transportation and Public Facilities oversees 237 airports, 9 ferries serving 35 communities along 3,500 marine miles, over 5,600 miles of highway and 839 public facilities throughout the state of Alaska. The mission of the department is to "Keep Alaska Moving through service and infrastructure."
# # #