FOR IMMEDIATE RELEASE: July 14, 2022
Press Release: 22-0029
Alaska DOT&PF Richardson Washout Response
(FAIRBANKS, Alaska) – The Alaska Department of Transportation & Public Facilities (DOT&PF) crews and contractors are currently working on responding to damage caused from flash flooding on the Richardson Highway between MP 218 to MP 234 on Monday, July 12. We are continuing to assess all identified locations on state-maintained infrastructure where repair work is necessary. Currently we have identified damage at Boulder Creek, Lower Suzy Q Creek, Upper Suzy Q, Falls Creek, Gunnysack Creek, Darling Creek, Ruby Creek and One Mile Creek Whistler Creek, Trims Creek, Castner Creek, Lower Miller, Coyote Creek, and on the Richardson MP 220.5, 226, 230.5, 229.1, 232.1, 228, 228.9, and 209.8. The road at Bear Creek has completely washed out on both sides of the bridge. A map of the location sites shares these locations on the Richardson washout website.
DOT&PF has response teams on the North and South ends of the closure assessing damaged areas and working on repairs. Contractors are working with DOT&PF maintenance and operation crews to make repairs. We anticipate this closure will continue through the weekend, depending on weather conditions.
The Richardson Highway between MP 218 and MP 234 traffic counts are 250 weekday travelers and 400 weekend travelers. During the closure for Valdez travel, detour around the closure by using the Tok Cutoff and the Alaska Highway.
For additional information, please visit: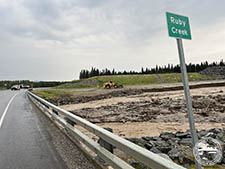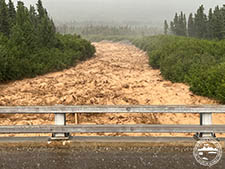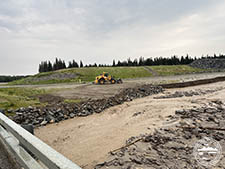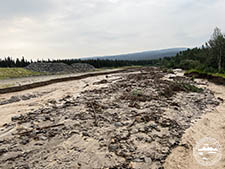 Photos of Richardson Highway MP 218-233 Washout Response
The Alaska Department of Transportation and Public Facilities oversees 237 airports, 9 ferries serving 35 communities along 3,500 marine miles, over 5,600 miles of highway and 839 public facilities throughout the state of Alaska. The mission of the department is to "Keep Alaska Moving through service and infrastructure."
# # #