FOR IMMEDIATE RELEASE: February 7, 2022
Press Release: 22-0007
DOT&PF To Seek Parking Management Company For Sitka Rocky Gutierrez Airport
Transition to managed parking expected to remedy parking issues
(SITKA, Alaska) – Changes are in the works for parking at the Sitka Rocky Gutierrez Airport. Long-term parking at the airport is a well-known topic of concern for residents and travelers, and parking management has become an increasing challenge for the Department of Transportation and Public Facilities (DOT&PF).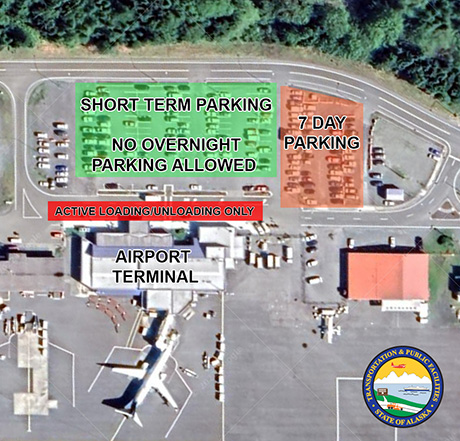 DOT&PF will soon advertise a Request for Proposals (RFP) to find a professional parking management company to manage the Sitka Airport parking area. This RFP will be the first of several planned to solve similar parking issues throughout the DOT&PF airport system. The RFP will seek to establish a parking and rate system to meet the parking needs at the airport. The RFP will go out in early March, and DOT&PF anticipates a company will be managing the lot by early April 2022.
The new management of the parking lot will ensure that parking is available to airport users and will prevent abandoned vehicles on airport property. Similar systems are already in place at multiple airports around Alaska, and the transition to managed parking is expected to remedy current parking issues.
Until a new parking management system is in place, DOT&PF would like to remind drivers of the current parking rules at the Sitka Airport. The area in front of the terminal is limited to active loading and unloading only and vehicles must not be left unattended. The main parking lot across from the terminal is for day-use only, with 140 parking spaces, and no overnight parking is allowed in this area.
A separate parking zone adjacent to the main day-use lot offers overnight parking for a maximum of 7 days. The overnight parking lot provides 68 spaces for travelers to use at their own risk. This overnight lot operates on a first-come, first-serve basis, and travelers should make off-site parking arrangements if the lot is full.
When a vehicle is found in violation of the rules, it is subject to being tagged and subsequently impounded at the owner's expense. DOT&PF makes every effort to contact owners before vehicles are impounded. Owners must pay all fees in full before an impounded vehicle is released, and this must take place during regular business hours, 8 a.m. to 5 p.m.
The Alaska Department of Transportation and Public Facilities oversees 237 airports, 9 ferries serving 35 communities along 3,500 marine miles, over 5,600 miles of highway and 839 public facilities throughout the state of Alaska. The mission of the department is to "Keep Alaska Moving through service and infrastructure."
# # #