FOR IMMEDIATE RELEASE: December 2, 2021
Press Release: 21-0020
Contact: Caitlin Frye, (907)451-5307, caitlin.frye@alaska.gov
DOT&PF's Sarah Schacher Honored with Prestigious Dr. L.I. Hewes Award
Schacher's thoughtful leadership and sound judgement cited in award recognizing her outstanding contributions to Alaska's highway development program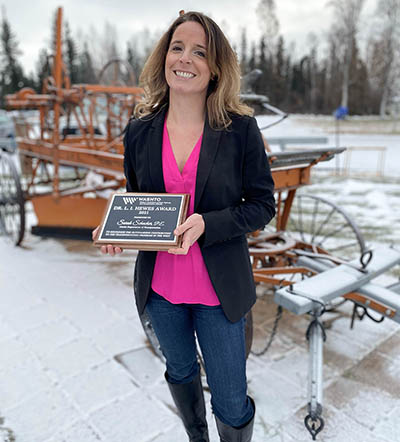 (FAIRBANKS, Alaska) – Sarah Schacher, P.E., was presented with the Dr. L.I. Hewes Award at this year's annual meeting of the Western Association of State Highway and Transportation Officials held earlier this fall. The Hewes Award is presented to one individual each year, selected from nominations of the 18 member states, for outstanding contributions to the state's highway development program.
"Sarah's leadership has been instrumental in the success of the Northern Region's infrastructure program, especially through the unprecedented challenges we have faced during the COVID pandemic," said DOT&PF Commissioner Ryan Anderson. "Her exceptional teamwork, work ethic, and compassion for her colleagues is remarkable."
Schacher began her career at DOT&PF in 2003 and has served as Preconstruction Engineer for DOT&PF's Northern Region since 2016 where she oversees a capital program of highway and aviation projects worth approximately $250 million annually. She is a lifelong resident of Alaska and a graduate of the University of Alaska Fairbanks.
The Alaska Department of Transportation and Public Facilities oversees 237 airports, 10 ferries serving 35 communities, more than 5,600 miles of highway and 776 public facilities throughout the state of Alaska. The mission of the department is to "Keep Alaska Moving through service and infrastructure."
# # #