FOR IMMEDIATE RELEASE: April 21, 2020
Press Release: 20-0032
Alaska DOT&PF Recognizes Work Zone Safety Awareness Week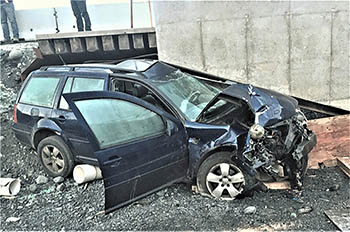 (JUNEAU, Alaska) – The end of winter across Alaska signals the start of Alaska's construction season, and as it gets underway, the Alaska Department of Transportation and Public Facilities (DOT&PF) reminds drivers to drive with caution in work zones. This week, DOT&PF joins other DOTs around the nation to recognize National Work Zone Awareness Week April 20-24, 2020.
"Please pay attention and slow down in work zones," said DOT&PF Commissioner John MacKinnon. "This year's theme is 'We Can Do It.' This is a fitting message during the COVID-19 pandemic. Construction will require collaboration between DOT&PF and communities, contractors and labor. Together we join our efforts to protect construction workers, the drivers and passengers who travel through our work zones, and the communities in which we work."
This year, work zone safety will include an emphasis on preventing the spread of COVID-19. Members of the Associated General Contractors led this effort by reviewing plans and best practices that were then incorporated into a COVID-19 Mitigation Response Plan for construction projects. The plan was reviewed by the Alaska Unified Command and provides guidance for a safe and healthy working environment for employees.
Transportation connects Alaskans to food, supplies and medical care, and construction is vital to our economy during these times. Construction is a $500 million annual business, employing almost 16,000 Alaskans.
On average, there are over 120 highway work zone crashes each year in Alaska. DOT&PF reminds drivers to stay alert and be cautious when driving through work zones by minimizing distractions, following signs and flaggers, and reducing speeds.
To view planned construction projects for 2020, visit dot.alaska.gov/2020. To view active construction projects, visit www.AlaskaNavigator.org. When planning travel on Alaska highways, visit 511.Alaska.Gov or call 511 for statewide road condition information, including road closures, alerts to emergency incidences, weather conditions affecting travelers and AMBER Alerts.
The Alaska Department of Transportation and Public Facilities oversees 237 airports, 10 ferries serving 35 communities, more than 5,600 miles of highway and 776 public facilities throughout the state of Alaska. The mission of the department is to "Keep Alaska Moving through service and infrastructure."
# # #