FOR IMMEDIATE RELEASE: April 16, 2020
Press Release: 20-0029
Alaska DOT&PF Works to Ensure Safety of Workers and Communities
During Construction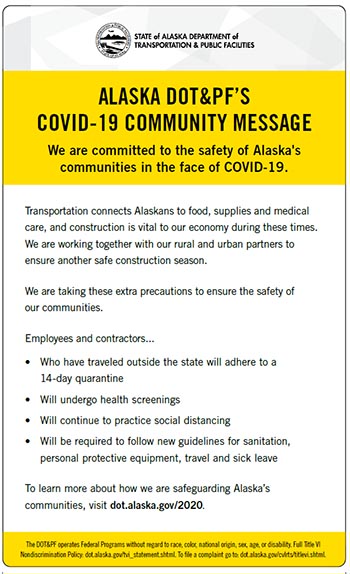 (JUNEAU, Alaska) – Across the state, the Alaska Department of Transportation & Public Facilities (DOT&PF) is preparing for a busy 2020 construction season. This year, that preparation includes comprehensive planning to minimize the spread of the COVID-19 disease. DOT&PF staff and contractors are working with communities to ensure the safety of employees and the security of residents where construction projects are planned.
"Our priority is the health and safety of our employees, our contractors and our communities," said John MacKinnon, DOT&PF Commissioner. "We need close cooperation and collaboration between DOT&PF and communities, contractors and labor to ensure the health and safety of the public and everyone working on our projects. At the same time, we recognize the essential economic impact that our annual $500 million construction program brings to Alaska. Especially during these times, construction is vital to our economy."
Construction is Alaska's third largest industry, employing almost 16,000 workers. The annual program brings approximately $500 million in federal dollars for Alaska's transportation infrastructure to the economy. Transportation infrastructure is the pulse of the economy and it is imperative that it be maintained and improved.
To mitigate the spread of COVID-19 disease, DOT&PF and contractors will follow the COVID-19 Mitigation Response Plan. This plan was reviewed by the Alaska Unified Command and provides guidance to providing a safe and healthy working environment. This includes following the Department of Health and Social Services and CDC recommendations and following all State of Alaska Health Mandates.
The COVID-19 Mitigation Response Plan requires employees and contractors:
Who have traveled outside the state to adhere to a 14-day quarantine.
To undergo health screenings.
To practice social distancing.
To follow new guidelines for sanitation, personal protective equipment, travel and sick leave.
"The present situation is unprecedented in Alaska," said MacKinnon. "We are committed to working closely with all of our partners in construction. We will all need to be flexible and collaborative during this crisis, just like we have worked through difficult times in the past. We're Alaskans. This is one more challenge we will overcome together."
For more information about upcoming construction projects, visit dot.alaska.gov/2020. To view active construction projects, visit www.AlaskaNavigator.org, for details about traffic impacts, including construction, visit 511.Alaska.Gov, or call 5-1-1.
The Alaska Department of Transportation and Public Facilities oversees 237 airports, 10 ferries serving 35 communities, more than 5,600 miles of highway and 776 public facilities throughout the state of Alaska. The mission of the department is to "Keep Alaska Moving through service and infrastructure."
# # #