Fire
The Airport Police and Fire Department delivers the highest standard of fire service to Alaskans and visitors from all over the world at one of the busiest cargo airports in the world. With a fleet of six Oshkosh 4500 Strikers, and two rapid-intervention vehicles, our firefighters are well equipped to conduct fire rescue operations.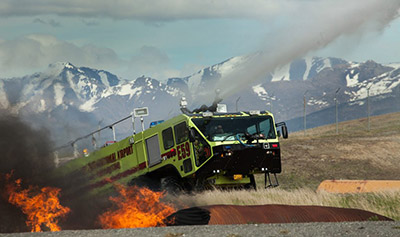 Fire Equipment
Through initial training officers will achieve proficiency with various firefighting tools, such as extrication equipment (Jaws of Life), ladders, fire-related hand tools, life safety ropes, hoses, and nozzles.
To give you an idea of the equipment we work with, outlined below are three of our fire fighting apparatus which maybe used in the event of an emergency:
Striker 4500
Powered by CAT C18 18 liter Inline 6 Cylinder Diesel Engine
950 Horsepower
2,400 foot-pounds torque
6 speed Twin Disc Auto Transmission
1,800 GPM Waterous Centrifugal Water Pump
(4) 29,000-pound Axles
4,500-gallon water tank – 37,527 pounds of water
630-gallon foam tank – 5,860 pounds of foam concentrate 
500 pounds dry chem (Purple K)
Gross vehicle weight 108,000 pounds
Average Replacement Cost – approximately $1.25 million
Rapid Intervention Vehicle
Powertrain 6.7L 4V V-8
385 Horsepower at 5,500 RPM
21 feet long
7 feet high at the cab
8 feet wide
500 pounds of dry chemical (Purple K)
120 gallons of 3% pre-mix AFFF
2 pre-connected hose lines
1 dual agent hose line
APS60-FR Airstairs
Truck Chassis 13-foot Ford F-450
Minimum height 145 inches
Width 102 inches
Length at minimum height 343 inches
Minimum clearance from the ground – 8 inches
Platform dimensions 100 inches wide by 102 inches long
Total weight: 19,000 pounds
Max admissible load per step 500 pounds
Electrical system 12 VDC
Fire Duties
One of the primary responsibilities of being an Airport Police and Fire Officer is providing firefighting and rescue services in the event of an aircraft incident or accident at the airport. Officers are required to operate large and complex firefighting vehicles daily.
Additionally, officers may be required to respond to a wide variety of other firefighting emergencies such as structure fires and water rescue incidents. Fire officers also conduct educational tours for fire sciences, fire extinguisher classes with live burns, as well as building surveys for emergency response, and extensive fire safety checks with aviation refueling companies at the airport.
Fire Training & Certification
Upon completion of the fire academy, officers receive state certifications in Fire Fighter I, Fire Fighter II, Aircraft Rescue Firefighting, Hazmat Awareness, and Hazmat Operations. In addition to the first year of training, officers take part in an annual live-fire exercise and various other drills. Live-fire exercises give officers a chance to practice skills and techniques on an active fire in a controlled environment. Officers are trained to work as a team and must be able to function in highly charged situations. Continuing education is incredibly important in a career that's always changing. Officers will have opportunities to attend advanced Aircraft Rescue Firefighting classes and other advanced fire attack classes.
Fire Academy
Recruits will attend an in-house, four-month-long Airport Fire Training Academy at ANC. Upon completion they will receive state certifications in:
Firefighter I
Firefighter II
Aircraft Rescue Fire Fighter (ARFF)
Hazmat Awareness
Hazmat Operations