Ketchikan Revilla New Ferry Berth & Uplands Improvements Project SFHWY-00085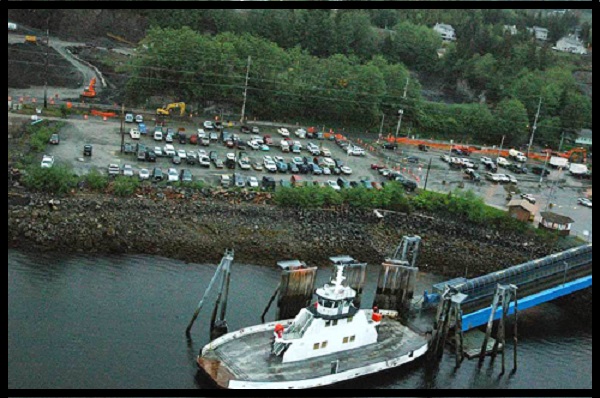 Project Development
A public workshop was held at the Ketchikan Gateway Borough building on May 25, 2017. DOT&PF and members of the Design team (MRV Architects / PDC Engineers / Kinney Engineering) presented three preliminary concept drawings that included new passenger waiting building, separated vehicle lanes for passenger loading, taxi/shuttle operations, vessel loading, improved pedestrian access features and traffic improvements along the Tongass Highway corridor. The preliminary conceptual drawings and other materials shown at the May 25th, public workshop can be accessed on the Project Documents Page.
Subsequent to the public meeting, additional analysis was conducted and two refined conceptual designs (Concepts C1 and C2) were developed. These concepts and supporting information were presented by DOT&PF design team members at the October 16th, Borough Assembly Meeting. Final comments by the Assembly and the public were incorporated into a preferred alternative titled C2B, which can be found on the on the Project Documents Page.
*****************************************************************************

DOT&PF will be presenting information about the preferred alternatives at the
Ketchikan Gateway Borough Workshop
on May 14, 2018 at 5:30 PM
at the Borough Assembly Chambers.
The Ketchikan Gateway Borough Assembly has organized a workshop where the Alaska Department of Transportation & Public Facilities (DOT&PF) will present the preferred alternatives for the proposed Revilla and Gravina Airport ferry terminal facility improvement projects. A PDF of the presentation can be viewed here.

*****************************************************************************
If you have any information or comments that you would like to share with DOT&PF and the Design team, please leave us your comment here.
And if you would like to receive more information on the project or speak directly with a staff person, please Contact Us.