Juneau – Egan Drive Resurfacing 10th Street to Main Street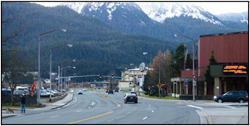 Federal Project #NHS 093-2(47)/State
Project #69393 & #69450
The purpose of the proposed project is to improve transportation safety on Egan Drive for motorized and non-motorized traffic and to prevent failure of the retaining wall on Egan Drive near Merchants Wharf. The project would resurface Egan Drive and enhance pedestrian and bicycle facilities from 10th Street to Main Street. (Location Map)
PROJECT INFORMATION UPDATE - FEBRUARY 2014
In April 2013, DOT&PF presented project information on the Egan Drive Resurfacing Main to 10th Street project at a public meeting, stakeholder meeting, CBJ Planning Commission, and on DOT&PF's project website. The proposed project would resurface Egan Drive and enhance pedestrian and bicycle facilities from 10th Street to Main Street. Specific project details in the April proposal are outlined in Table 1 and depicted on Project Overview Maps 2-5 (April 2013).
Based on comments received, DOT&PF conducted additional traffic modeling, gathered more supporting information, and revised the project originally proposed in April. Project information was updated in November 2013 to reflect those changes. Since November, Additional modifcations have been made, and project details are depicted on Project Overview Maps 2-4 (February 2014). The primary change from November 2013 to Februrary 2014 is that instead of a cycle track, a buffered bike path would be constructed between 10th Street and Whitter Street, providing greater separation of use between pedestirans and bicyclists. A comparison of the April proposal as it's evolved to date is shown in Table 2.

Of particular interest to users of the corridor are the proposed changes to the driving lane configuration between Whittier and Main Street. The original configuration proposed in April, 2013 required inbound drivers to merge from two lanes into one between the Whittier and Willoughby intersections. The current road design retains two lanes further inbound, with the left through lane becoming a left turn only lane at the Willoughby intersection (Project Overview Maps 1-5 February 2014).

Project Status and Tentative Schedule - As of March 2015
DOT&PF is developing the project and welcomes public comment on the revised plan. Comments may be submitted to Hilary Lindh, the environmental analyst for the project, via regular mail, electronic mail, or telephone.
The tentative schedule for completing the project is as follows:
Preliminary design and complete environmental document: Fall 2014
CBJ Local Concurrence and Final Design: Summer 2015
Right of Way Acquisition: Fall 2015
Advertise project and award to construction contractor: Winter 2015-16
Begin Construction: 2016