Gillam Way Reconstruction

Project No. Z637840000 / 0655012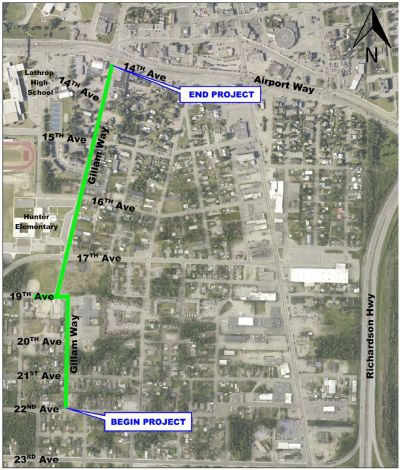 The Alaska Department of Transportation & Public Facilities (DOT&PF) is proposing to reconstruct Gillam Way in Fairbanks, AK between 22nd Avenue and Airport Way.
This project was nominated for the Fairbanks Metropolitan Area Transportation System (FMATS) Transportation Improvement Program (TIP) through the combined efforts of the City of Fairbanks, FMATS, and DOT&PF.
Project Purpose
Improve safety and reduce maintenance costs on Gillam Way.
Project Scope
The project will reconstruct Gillam Way between 22nd Avenue and Airport Way, including:
Repaving
Intersection Improvements
Improving existing and constructing new Americans with Disabilities Act (ADA) sidewalks throughout the project limits
Shoulders for shared use bicycle facilities on both sides of Gillam Way
Traffic calming features
Updated signing and striping
Drainage improvements
Improvements to water and sewer between 19th Avenue and 14th Avenue
More information about the proposed design can be viewed in the links provided in the side bar. The Design Study Report (DSR) describes the proposed design, and the preliminary plans show the current design advanced since the DSR. The KMZ file can be used to see the proposed improvements in Google Earth.
Public Involvement
Thank you to all who participated in our public involvement efforts to date.
The project was approved by the Fairbanks North Star Borough Planning Commission in July 2018.