Northern Region 2020 Construction Season Info
Alaska DOT&PF's Northern Region has another busy construction year planned for 2020. The coronavirus pandemic, its effect on the world economy, and social distancing measures will change the way this season looks for us, but we are committed to moving forward with construction projects to the best of our ability.
Learn more about what we are doing to protect communities and workers from coronavirus infection while continuing to protect Alaska's infrastructure and economy by visiting our statewide 2020 Construction website.
On this web page, you will find information about the 2020 construction season in Northern Region, general information about how our construction program operates, and links to project websites.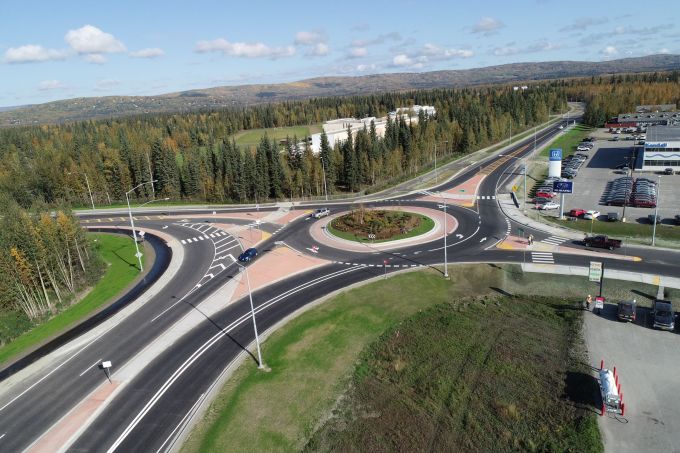 The roundabout at the intersection of Danby and Wembley was constructed
in 2019 to improve safety and traffic flow.
Big numbers for 2020 construction in Northern Region
$225 million: estimated total cost of construction contractor payments in 2020
90%: portion of this cost funded by the federal government
35: number of projects across Northern Region
11: number of communities in the Northern Region served by this year's construction program
Priorities in construction
We plan, design, and construct projects in order to accomplish three primary goals:
Improve safety and mobility
Preserve our existing infrastructure
Reduce our operating costs
How an idea becomes a construction project
The projects you see constructed in 2020, and every other year, start with an evaluation of our state's infrastructure needs. Out of these needs, projects are planned with the help of stakeholders and the public, funding from our federal partners is secured to begin the project, and the design process begins.
The design process includes completing the environmental document, getting feedback from stakeholders and the public about the project, acquiring any necessary right-of-way, making agreements with utility companies, creating the detailed construction plan, and estimating the cost of construction. This process can be completed entirely in-house, partially in-house with the assistance of a consultant, or primarily by a consultant with oversight from DOT&PF staff.
When all that preparation work is complete and a project is ready to be delivered to construction, it is submitted to our federal partners for funding approval. If approved, the project is typically advertised to construction contractors who submit bids stating the price at which they can build the project. The contractor who meets the requirements of the bid advertisement and submits the lowest bid is generally awarded the project. In some cases, we use alternative procurement methods, like Construction Manager / General Contractor, in which a construction price is negotiated with a contractor.
The awarded contractor will construct the project as specified in the plan set with contract oversight and quality control managed by DOT&PF staff.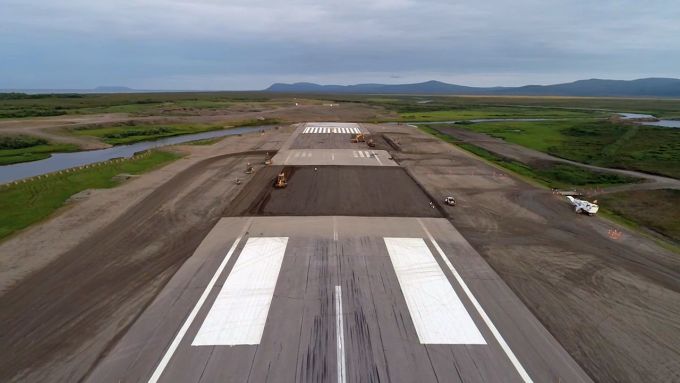 A project constructed in 2019 repaired damage to the Nome airport runways due
to settlement of the material under the runways.
Teaming in construction
Our projects are developed using a team approach. Here at DOT&PF's Northern Region, we are organized into groups made up of employees with a variety of backgrounds, expertise, and job functions. We bring together design engineers, right-of-way agents, environmental analysts, construction engineers, and other key players to help with the project at the beginning of the design process. We also ask for feedback from maintenance personnel, funding partners, community members, businesses, and other stakeholders while the project is being developed.
This teamed approach helps head off potential problems early in the process, fosters creativity and innovation, ensures a variety of opinions and agendas are considered, and creates a sense of ownership across the department and the community.
Closures, detours, signs, and cones—how we manage traffic during construction
When making decisions about how to manage traffic through construction zones, we look at each project individually, consider how each project interacts with other construction projects in the area, and consider how detoured traffic impacts our transportation system as a whole. We try to balance several different factors:
Safety of the public and the workers
Impacts to businesses and the public
Available funding
Time to complete the project under a variety of conditions
The vast majority of funding for our road construction projects comes from the Federal Highway Administration (FHWA). For those federally-funded projects, FHWA requires us to look at closing a road as a first option to manage traffic. Generally this is not an option on our rural projects because of a lack of alternative routes. However, if there are reasonable detours around the construction zone, the existing transportation network can handle the increase in traffic, and a closure doesn't block access to homes, business, or essential resources, this option can have big benefits including:
Decreasing the amount of time needed to complete the project
Decreasing the cost of the project
Increasing safety for workers and the traveling public
Minimizing impacts on businesses
A two-way left-turn lane was constructed on Badger Road in 2019 to improve safety on this corridor with a high crash rate due to a high number of driveways and side streets.
Here are two examples of our thought process while determining the traffic control plans for specific 2020 projects.
University Avenue / Airport Way Reconstruction
Is a closure feasible? Yes, because there are detour routes available for residential and business properties around the University Avenue / Airport Way intersection and the existing transportation network can handle the increased traffic.
Is a partial closure feasible? Yes. Project staff determined that the Airport Way legs of the intersection could remain open. The University legs of the intersection are being widened and moved so significantly that keeping them open would cause significant project delays and increased cost. With traffic on Airport Way moving continuously with no opposing vehicle traffic, the additional time needed to travel detour routes is expected to be less than the expected delay if traffic were to remain open on all legs of the intersection.
How do traffic delays compare between a partial closure and no closure? Our traffic models show that the detours around the project will cause drivers about the same amount or less delay than driving through the intersection with all legs of travel open. Based on traffic modeling with current traffic volumes, we expect driving through the Airport Way / University Avenue intersection with all legs of travel open during construction could delay drivers about 20 minutes. If we close the University Avenue legs to traffic as planned, the longest detour around the project is about seven minutes.
How much construction time would be saved through a full closure? We can finish reconstructing the intersection in one year if we close University Avenue to traffic. If we do not, this project would take more than one year, because keeping traffic flowing through a construction site is much less efficient. We have to constantly maintain the gravel surface to keep down dust and fix ruts, we have to constantly shift lanes of traffic around our work, and we can only work in certain areas at a time. The utility work needed on this project will take a long time to complete, and in order to get it all done in one year, we need to work as efficiently as possible.
Is a closure the best choice? Yes. It will minimize the impact on the public and local businesses by reducing the length of time need to construct the project, it will cause the same or less delay for drivers, and it is safer for workers and travelers.
Richardson Highway Access Improvements Project MP 353-357
Is a full closure feasible? No, because there is no reasonable detour route that could handle the expected traffic volumes on that route.
What can we do to minimize impacts without a full closure? We will work on one side of the highway at a time, shifting traffic to the other side of the highway, one lane in each direction. By working on one side of the highway at a time, we will minimize the conflicts between drivers and workers.
What's coming in Fairbanks?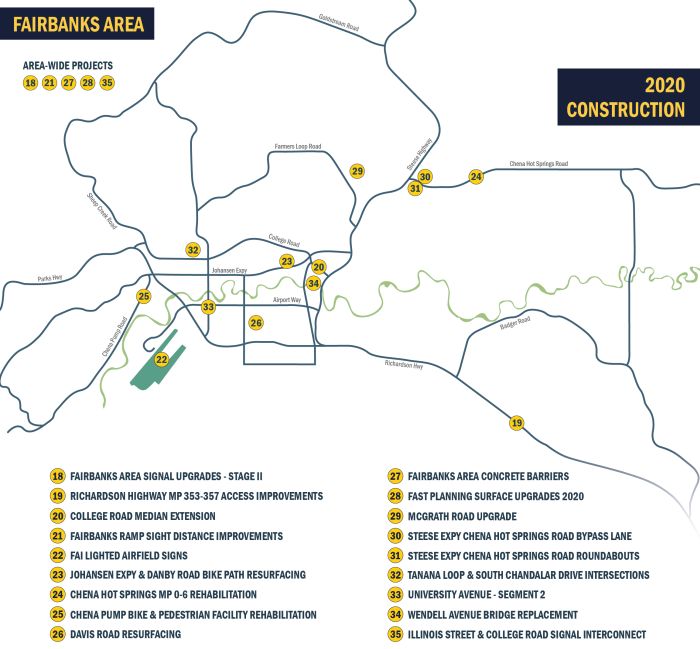 We will be living up to our reputation again this year in Fairbanks with another busy construction season. Many of the projects listed above will have minimal impacts on traffic. Depending on where you live and work, however, some of these projects will have a big impact on your commute.
For more information about specific projects, please visit our project websites. You will find contact information on each project website on the sidebar to the right. During construction season, you can find the most recent project updates and traffic impacts at AlaskaNavigator.org. Not all projects have websites, but all projects in construction will be listed on Alaska Navigator.
What's coming for the Northern Region?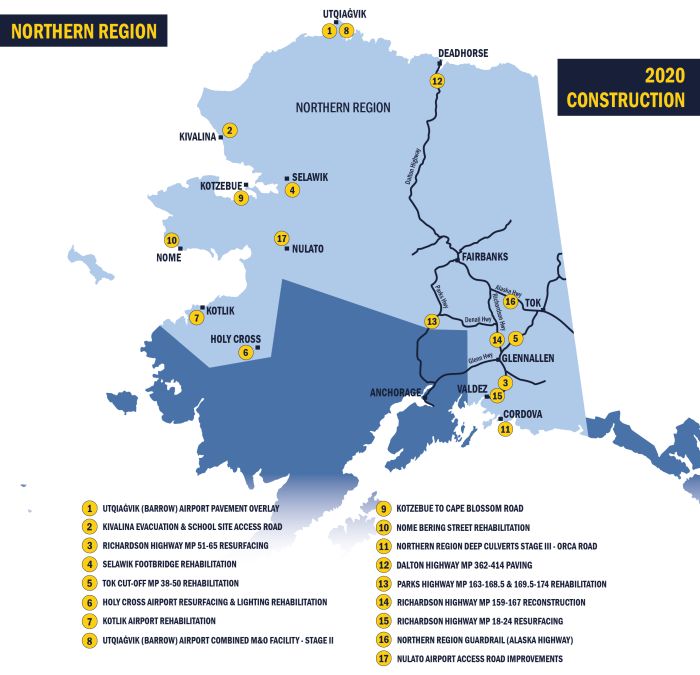 Of the 17 rural projects we plan to construct in 2020:
4 are aviation projects off the contiguous road system
5 are road projects in remote communities off the contiguous road system
7 are on the national highway system
1 is a facility project
You can find the most recent project updates, including traffic impacts, for projects affecting road travel, on AlaskaNavigator.org. For more information about select projects, visit the project websites.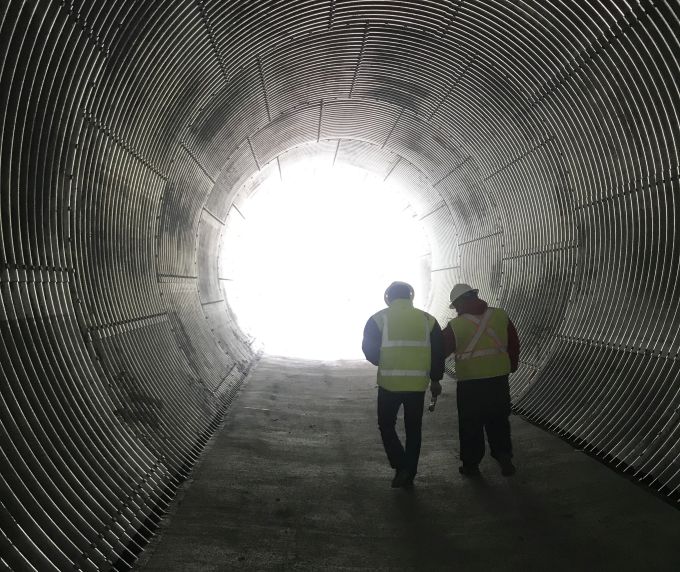 Project manager David Arvey and engineering assistant Jason Torres inspect a 206" culvert on the Northern Region Deep Culverts Stage IV, Richardson Highway Milepost 30-33 project in 2019.