College Road Bus Pull-Outs
Project Purpose:
This project will identify, design, and construct up to five bus pull-outs along College Road to improve safety and traffic flow along the College Road corridor by removing stopped busses from the travel lanes. The locations include: Hayes Avenue (westbound), Farmer's Market (westbound), Kathryn Avenue (both directions), and Maryleigh Avenue (westbound). The pull-outs at Aurora Drive (both directions) will be closed.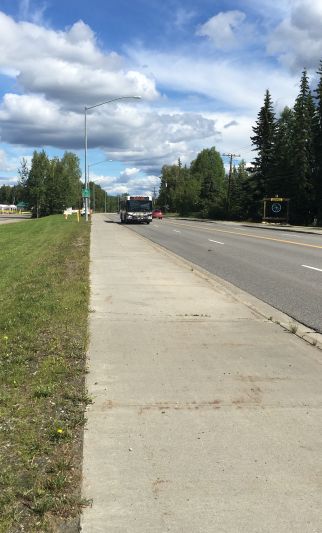 Project Scope:
Phase 1 – Feasibility. The team has investigated the feasibility of the proposed bus pull-outs as identified in the College Road Corridor Study. The investigation included analysis of right-of-way constraints, utility conflicts, user needs, and environmental impacts. Stakeholders and the public were consulted to identify issues and constraints that helped guide preliminary engineering.
Phase 2 – Environmental. The environmental process was done based on the findings of Phase 1. The project now has an approved environmental document moving forward into design. The environmental elements that were evaluated include social/cultural, economic, land use, wetlands, fish/wildlife, hazardous waste, air quality, floodplain, noise and water quality.
Phase 3 – Design. The design will begin with a topographic survey of the existing bus pullout locations. Once the survey is complete the Design Study Report will be developed. Upon approval of the final Design Study Report construction plans, specifications, and an engineer's estimate will be prepared for bid in anticipation for Summer 2022 construction.
Project Schedule:
Site visit and project kick-off – July 2018
Agency scoping and feasibility investigation – July through September 2018
Public open house – August 2018
Final environmental document – April 2019
Design – Winter 2019-2020