3rd Street Widening Project
Project No. MGL-M-067(1)/62541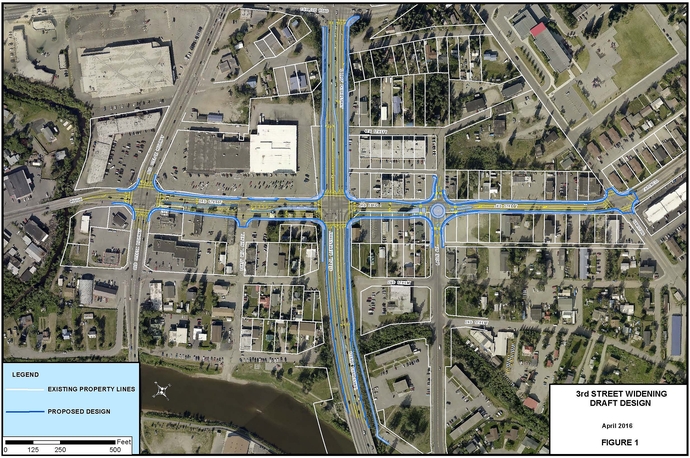 Click on the image to download the map in Adobe PDF
The Alaska Department of Transportation & Public Facilities (ADOT&PF) in cooperation with the Federal Highway Administration (FHWA) proposes to upgrade the Steese Highway/3rd Street intersection in Fairbanks Alaska. The improvements will widen 3rd Street between the Old Steese Highway and Hamilton Avenue and improve the Steese Highway between the Chena River and College Road.
The purpose of the project is to improve traffic flow and safety for motorized and non-motorized users through the Steese Highway/3rd Street intersection and along the corridor.
Proposed improvements include:
Addition of traffic through lanes
Addition of exclusive right and left turn lanes
A roundabout at the Eagle Avenue intersection
Sidewalk widening and ADA improvements
Traffic signal upgrades
In preparation for the construction project, ADOT&PF acquired right-of-way on the south side of 3rd Street west of the Steese Highway. Buildings located on the acquired right-of-way were removed during the 2015 summer construction season.
Milestones:
Winter 2015/2016 - Validate and adjust the existing design to minimize right-of-way impacts along 3rd Street, east of the Steese Highway
2016 – Begin right-of-way acquisition east of the Steese Highway
2017/2018 – Final Construction Design Plans, Specification & Estimate. Request FHWA Authority to Advertise the project for construction bids
2017-2020 Right of way acquisition
Spring 2021 begin construction