Sitka Sawmill Creek Road Resurfacing & Pedestrian Improvements Projects #68100 & #SFHWY00064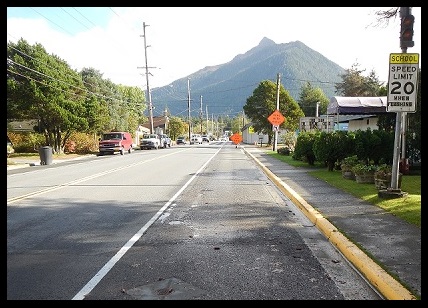 Project Description
The Alaska Department of Transportation and Public Facilities (DOT&PF) proposes two projects that would resurface and enhance pedestrian and bicycle access on Sawmill Creek Road from the Roundabout to Jeff Davis Street; and would resurface Sawmill Creek Road from Jeff Davis and Smith Street.
The projects are the:
Sitka Sawmill Creek Road Resurfacing & Pedestrian Improvements Project Z-68100-0000 / 0933042

Sitka Sawmill Creek Rd. Resurfacing: Jeff Davis to Smith St. Project SFHWY00064 / 0933046
Sawmill Creek Road is heavily traveled by vehicles, pedestrians and bicyclists despite inadequate facilities for all. The purpose of this project is to make the road more accessible to bicyclists while maintaining the level of service to vehicular traffic.
The projects would
• Resurface the entire length of the roadway
• Eliminate parking along south side of the road
• Replace sidewalks, curbs, gutters, driveways
• Upgrade curb ramps to ADA standards
• Establish ADA compliance at utility pole locations
• Replace the storm drain system
• Reconfigure access to De Groff Street for traffic control
• Update signage & striping
• Add dedicated bicycle passageways in each direction
• Install pedestrian warning signs at Raptor Way
• Install new cross walks near Degroff and Jeff Davis Streets
• Enhance the crosswalk markings near Baranof Elementary School
Construction is projected to begin in 2020.