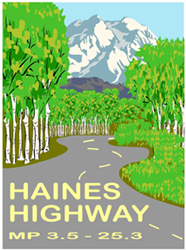 Haines Highway Improvements
Milepost 3.5 to 25.3 (Airport to Bluffs)

The Alaska Department of Transportation and Public Facilities (DOT&PF), in partnership with the Federal Highway Administration (FHWA), is proposing a project to upgrade the Haines Highway to current standards from Milepost 3.5 to 25.3. The Haines Highway, a designated Scenic Byway, connects the communities of Haines, Alaska and Haines Junction, Yukon Territory. This highway is one of two major highways out of the Southeast Alaska region, and is also an important international transportation system, as it connects the Alaska Marine Highway System in Haines with Canada.

The road, which was originally constructed in 1943, has been periodically upgraded over the years, with the portion from the Bluffs (Milepost 25.3) to the Canadian border (Milepost 40) being the most recently completed. During this last project, the design speed for Haines Highway was designated as 55 mph in order to make the U.S. and Canadian highways consistent.

The goal of this project is to bring the last portion of the Haines Highway up to a 55 mph design standard by realigning, widening and straightening portions of the roadway. These upgrades will provide a safe, consistent and efficient roadway. DOT&PF is also planning to replace the existing Chilkat River Bridge, and is developing long-term solutions to debris flow problems near Mileposts 19 and 23.

The first stage of the project, which began in August 2005, included preliminary alignment analysis, scoping, and environmental review. The first stage was suspended in September 2006 due to shortfalls in state transportation funding. Work was restarted on the environmental assessment in November 2008 and current documents are available online at http://dot.alaska.gov/sereg/projects/haines_hwy/documents.shtml.

Completion of the revised Environmental Assessment (EA) for the Haines Highway Milepost 3.5 to 25.3 is expected early in 2015.
With the release of the Environmental Assessment (EA) in July 2013, many comments were received. While many in the community voiced support for the proposed action, other comments focused on potential cultural, economic, and environmental impacts.
As a result, the project team is reviewing all the comments and evaluating alternative designs and mitigation opportunities.
The Alaska Department of Transportation and Public Facilities (DOT&PF) and the Federal Highway Administration (FHWA) are taking the time needed to incorporate comments the best possible way. We are currently in the process of meeting with the National Marine Fisheries Service, U.S. Fish and Wildlife Service, U.S. Army Corps of Engineers, Alaska Department of Natural Resources, and the Alaska Department of Fish and Game to discuss redesign efforts especially in areas proposed for fill in the Chilkat River and in high value wetlands. Additional field studies by bald eagles experts and historic/cultural consultants are also being conducted.
The next steps include:
Possible changes in the Proposed Action as a result of comments received
Completing the additional field studies
Completing responses to public and agency comments
Incorporating changes into a revised EA document for FHWA review. The revised EA will contain all comments submitted and responses.

If FHWA determines there are no significant impacts, a Finding of No Significant Impact (FONSI) will be issued.
If FHWA determines there would be a significant impact, steps will be taken to initiate an Environmental Impact Statement (EIS).
Because of the number of comments and the serious concerns raised, accomplishing these steps will take time. We know you are interested in our progress and we will continue to update you. Right now, the project team is preparing a list of Frequently Asked Questions. It will be posted on the project website soon. A follow-up email will be sent out when is it available.
Contacts
Jim Scholl

Project Environmental Coordinator

DOT&PF

P.O. Box 112506

Juneau, AK 99811-2506

Phone: (907) 465-4498

Email: haineshighway@alaska.gov

OR

Alex Viteri

Southcoast Area Engineer

FHWA Alaska Division

709 W. 9th, Room 851

Juneau, AK 99801

Phone: (907) 586-7544

Email: alex.viteri@dot.gov
It is the policy of the DOT&PF that no person shall be excluded from participation in, or be denied benefits of any and all programs or activities we provide based on race, religion, color, gender, age, marital status, ability, or national origin, regardless of the funding source including Federal Transit Administration, Federal Aviation Administration, Federal Highway Administration and State of Alaska Funds. The DOT&PF complies with Title II of the Americans with Disabilities Act of 1990. The Department will continue to post updates to the project website and the State's On-Line Public Notice.

Construction would be in segments over an estimated 6 to 8 year period. The first construction segment, from approximately Milepost 3.5 to Milepost 12, could start as early as spring of 2016. Construction of the second segment, from Milepost 21 to Milepost 25.3, could start as early as spring of 2017.