Haines Highway Improvements
Milepost 3.9 to 25.0 (Airport to Bluffs)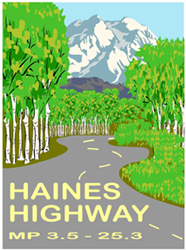 The Alaska Department of Transportation and Public Facilities (DOT&PF), in partnership with the Federal Highway Administration (FHWA), is proposing a project to upgrade the Haines Highway to current standards from Milepost (MP) 3.9 to 25.0. The Haines Highway, a designated Scenic Byway, connects the communities of Haines, Alaska and Haines Junction, Yukon Territory. This highway is one of two major highways out of the Southeast Alaska region, and is also an important piece of the international transportation system, as it connects the Alaska Marine Highway System in Haines with Canada.

The road, originally constructed in 1943, has been upgraded over the years, with the portion from the Bluffs (MP 25.0) to the Canadian border (MP 40) being the most recent. During this last upgrade the design speed for Haines Highway was designated as 55 mph in order to make the U.S. and Canadian highways consistent.
The goal of this project is to bring the last portion of the Haines Highway up to a 55 mph design standard by realigning, widening and straightening portions of the roadway. These upgrades would provide a safe, consistent and efficient roadway. DOT&PF is also planning to replace the existing Chilkat River Bridge, and is developing long-term solutions to debris flow problems near Mileposts 19 and 23.
Construction would take place in segments over an estimated 6 to 8 year period. Construction of the first segment, from approximately Milepost 3.5 to Milepost 12, could start as early as fall 2017. Construction of the remainder of the project will begin between 2018 and 2022.
DOT&PF has completed the process of evaluating environmental impacts. An Environmental Assessment was released in July 2013 and a draft revised environmental assessment was released for public review and comment in October 2015. Many comments were received and considered.
The Final Revised Environmental Assessment (EA) is available
The public comment period is now closed.
Click here for the Final Revised EA, Finding of No Significant Impact (FONSI), and other project documents.

If you have questions about this project please click here for more contact info.
It is the policy of the DOT&PF that no person shall be excluded from participation in, or be denied benefits of any and all programs or activities we provide based on race, religion, color, gender, age, marital status, ability, or national origin, regardless of the funding source including Federal Transit Administration, Federal Aviation Administration, Federal Highway Administration and State of Alaska Funds. The DOT&PF complies with Title II of the Americans with Disabilities Act of 1990. The Department will continue to post updates to the project website and the State's On-Line Public Notice.