Juneau Egan Drive and Yandukin Intersection Improvement Project SFHWY-00079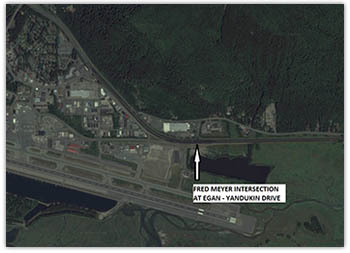 PROJECT STATUS:
DOT&PF is looking at ways to improve safety and efficiency through the Egan / Yandukin intersection. Rates of severe crashes at the intersection are relatively high for drivers making left-hand turns across Egan into both the Fred Meyer and airport areas.
A public house was held in Juneau in December 2017, to provide the public with an opportunity to learn about the project, express concerns, and provide input on how the intersection currently functions. Kinney Engineering developed a traffic analysis of the intersection and surrounding areas. DOT&PF received funding in 2018 for further work on the Egan/Yandukin intersection, to combine traffic flow, safety, cost, and other considerations. In 2019, DOT&PF will be working extensively with the community of Juneau to analyze and select the most feasible intersection improvement or combination of improvements.
If you need more information, please contact us.