University Avenue Rehabilitation & Widening
The Alaska Department of Transportation and Public Facilities (ADOT&PF), in cooperation with the Alaska Division of the Federal Highway Administration, is proposing to widen and reconstruct University Avenue from the Mitchell Expressway to the Thomas Street intersection. University Avenue is a high-volume arterial route and functions as the primary north-south transportation corridor on the west side of Fairbanks. Construction of the entire University corridor started at the Geist/Johansen/University intersection in May 2018 and is expected to last through 2022.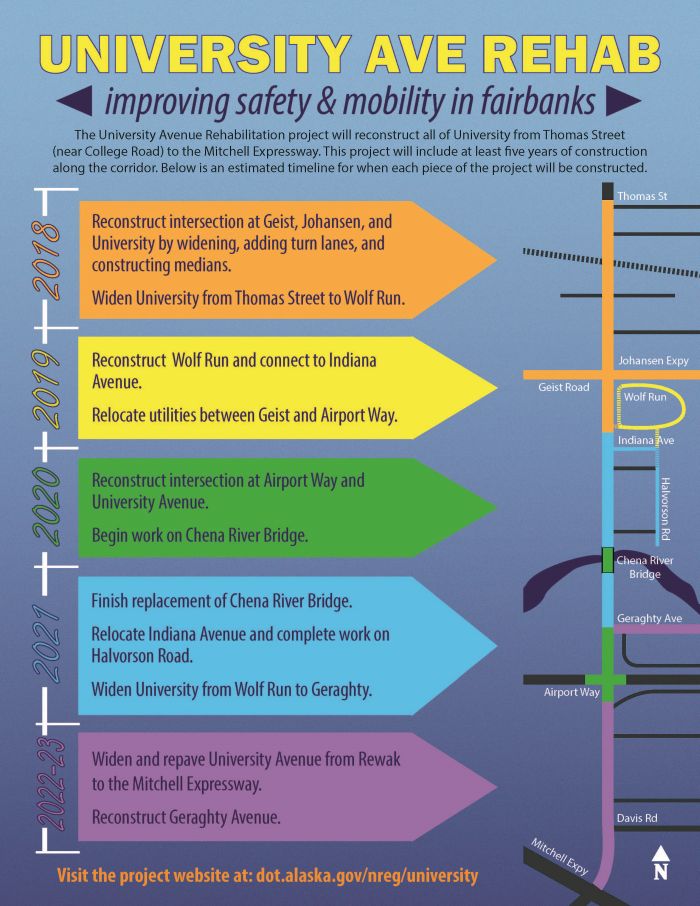 The department's purpose for this project is to improve safety and mobility through this high-volume route. Proposed improvements include:
Widening University Avenue to include a raised center median;
Addition of left turn lanes at non-signalized intersections;
Expansion of University's intersections with Geist Road/Johansen Expressway and Airport Way;
Replacement of the structurally deficient Chena River Bridge;
Addition of 4.5-foot shoulders;
Sidewalk expansions include an 8-foot sidewalk on the west side of University Ave and 6-foot sidewalk on the east side;
Relocation of driveway access to side streets; and
Side street improvements for Geraghty Avenue and Halvorson Road to accommodate access changes.
The project is currently divided into two segments. Segment 1 includes work from the Thomas Street intersection to just north of Geraghty Avenue. Segment 2 includes work from the southern limit of Segment 1 to the Mitchell Expressway. A portion of the Segment 1 project area was constructed in 2018, which included rehabilitation of the intersection at University Avenue, Geist Road, and the Johansen Expressway and the segment of University Avenue north of that intersection to Thomas Street. This early work was needed in advance of the full Segment 1 construction to better manage temporary traffic impacts during construction of the Chena River Bridge No. 263.
This project is using the Construction Manager/General Contractor (CMGC) procurement method — this method will allow for greater innovations in design and the ability to plan the construction to find efficiencies and cost savings. Learn more about CMGC here. We are working with local contractor Great Northwest, Inc. and bridge subcontractor Hamilton Construction Alaska Co. to develop the plans.
We welcome your feedback and questions and encourage area property owners to contact us.
Intersection Improvements at University, Geist, and Johansen
This intersection is the busiest intersection in the Fairbanks area with over 40,000 vehicles passing through each day. It also currently has the highest number of crashes of any intersection in Fairbanks. The improvements made in 2018 and 2019 will improve traffic flow, increase capacity, and improve safety at this important intersection.
Highlights of the new improvements include additional right-turn lanes to improve traffic flow, two dedicated left-turn lanes in all directions, and new medians for improved safety.