University Avenue Rehabilitation & Widening
Jump to information about the July 2020 – October 2021 closure of University Avenue during construction of the Chena River Bridge.
The Alaska Department of Transportation and Public Facilities (DOT&PF) and contractor Great Northwest, Inc. are widening and reconstructing University Avenue from the Mitchell Expressway to the Thomas Street intersection. University Avenue is a high-volume urban route that serves as the primary north-south transportation corridor on the west side of Fairbanks. Construction of the entire University corridor started at the Geist/Johansen/University intersection in May 2018 and is expected to last through 2022.
Why so much work on University?
The purpose of this project is to improve safety and mobility through this high-volume route by
widening University Avenue to include a raised center median,
adding left turn lanes at non-signalized intersections,
reconstructing the intersections at Geist Road/Johansen Expressway and Airport Way,
replacing the Chena River Bridge,
adding 4.5-foot shoulders,
expanding sidewalks to include an 8-foot sidewalk on the west side and 6-foot sidewalk on the east side,
relocating driveway accesses and side streets, and
improving Geraghty Avenue and Halvorson Road to accommodate the access changes.
The work for this project has been divided into smaller segments that are being constructed between 2018 and 2022. The work that has already been completed as of spring of 2020 includes
reconstruction of the University Avenue / Geist Road / Johansen Expressway intersection,
widening and rehabilitation of University Avenue between Wolf Run and Thomas Street,
utility relocation and side street work between Geist Road / Johansen Expressway and Airport Way.
What is coming in 2020?
University Avenue between Goldizen and Airport Way will be CLOSED to vehicles starting mid-July through October 2021 while we reconstruct University and replace the Chena River Bridge. In other words, it will be closed through this winter and next construction season, with the new bridge opening in the fall of 2021. Pedestrian access will remain open throughout construction.
We are currently reconstructing the University Avenue / Airport Way intersection. University Avenue south of Airport Way to Rewak is closed and it will remain closed until October of this year. Starting in mid-July, University Avenue north of Airport Way will close while reconstruction work begins on the road north of Airport Way (toward the Chena River). The intersection work will be completed by the end of this construction season. The video below walks you through all the improvements we are making to the intersection.
University Ave / Airport Way Intersection - Before and After from AlaskaDOTPF on Vimeo.
While we work to complete the University/Airport intersection, we will begin work on the Chena River Bridge. The bridge work will require the extended closure through the winter. We know that an extended closure like this has a huge impact on drivers, businesses, and residents in the area. The decision to close the road for this extended period was carefully considered. Here are the reasons that led us to this decision.
We must demolish the bridge in late summer when water levels are low and there is no ice in the river. In order to prevent the old concrete from contaminating the river, divers must saw away sections of concrete under the water line from the old piers. This sensitive work cannot be completed safely when there is ice in the river or water levels are high. If we were to wait until next summer to demolish the bridge, there would not be enough time to construct the new bridge before winter.
A large bridge with utilities, like this one, takes longer than one summer to complete. Construction on the new bridge will begin this winter when we begin driving the bridge supports (piling) into the river. This summer we are relocating some of the utilities under the river and installing a prefabricated pedestrian bridge. After the new bridge is complete, it will be the widest bridge in Fairbanks with four lanes, a median, and two separated pedestrian paths on either side.
There is not enough space to build a temporary bridge. The bridge on University Avenue is tightly surrounded by private property and a state park. The state park in particular, where we have a permit to stage equipment during the summer of 2021, has strict environmental requirements governing the length of time we are able to occupy that space. Building a temporary bridge for a long duration was not feasible in this location.
We know this kind of extended closure is not typical for Fairbanks construction and it's going to have a huge impact—it may have a huge impact on you every day. We know that can be really hard. But we do believe that this is the best alternative considering the many years of delays we would be faced with if we built the bridge in bits and pieces with open lanes. Nonetheless, we genuinely appreciate your patience.
Here's what else you can expect during construction 2020
University Avenue will be closed between Goldizen Avenue (north of the Chena River Bridge) and Rewak Drive starting in mid-July. This closure is needed to allow for widening of University Avenue through Airport Way, as well as replacement of old water and sewer lines under the road.
Traffic on Airport Way will be reduced to one lane in either direction, but will be able to pass through the intersection with University Avenue.
University Avenue south of Airport Way (toward Rewak) will open at the end of this construction season. University Avenue north of Airport Way (toward Geist/Johansen) will remain closed.
University Avenue north of Airport Way (toward Geist/Johansen) will stay closed from Airport to Goldizen Avenue through the winter and all of the 2021 construction season. It is expected to open in October 2021.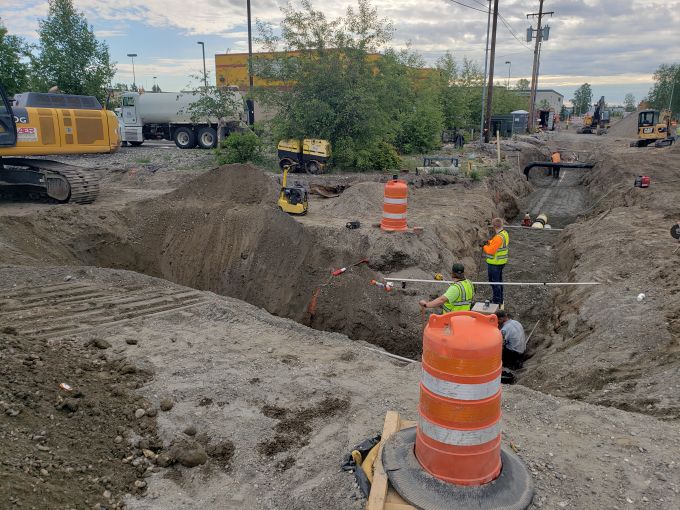 Contractor Great Northwest, Inc. works on utilities under Airport Way
at Rewak Drive in May 2020.
How are you protecting workers from COVID-19?
We are committed to preventing the spread of COVID-19 among our workers and throughout the communities in which we work. You can learn more about what DOT&PF and contractors are doing to address COVID-19 at our statewide 2020 construction website (coming soon).
Innovative solutions to a big construction project
This project is using the Construction Manager/General Contractor (CMGC) delivery method — this method allows for greater innovations in design and the ability to plan the construction to find efficiencies and cost savings. Learn more about CMGC here. We are working with local contractor Great Northwest, Inc. and bridge subcontractor Hamilton Construction Alaska Co. to develop the plans.
We welcome your feedback and questions and encourage area property owners to contact us.
What's already been done and what's to come?
Construction on this project began with the reconstruction of the University Avenue / Geist Road / Johansen Expressway intersection in 2018. Since 2018, University Avenue has been reconstructed from College Road to Wolf Run, just south of the intersection with Geist Road and the Johansen Expressway. Utility relocations and a portion of the side street work was completed in 2019. The graphic below shows what has been done in previous years and what is still to come over the next several years.