Shishmaref Relocation Road Planning and Environmental Linkages (PEL) Study - NFHWY00352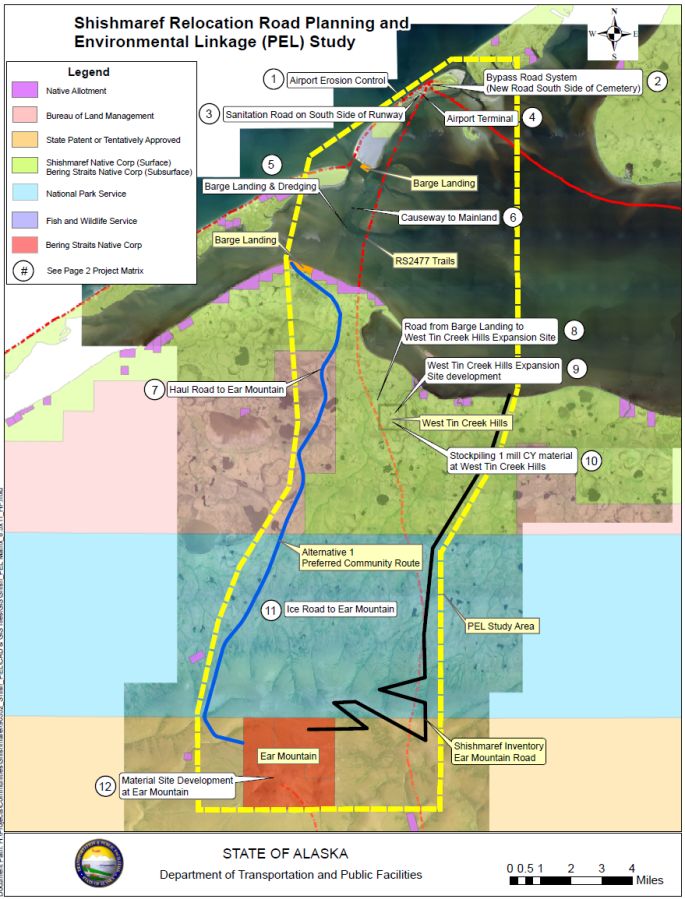 Click here for project area in PDF
PEL Purpose and Need
The Shishmaref PEL will serve as a mechanism to pursue funding for identified project needs and alternatives on Sarichef Island, as well as project needs that support community expansion. The PEL will identify obstacles impeding sustainable community infrastructure, such as locally available material necessary for construction and maintenance of that infrastructure.
PEL Goals
Collect new information and consolidate past data in support of identified projects

Conduct field studies (archaeology, lagoon bathymetry) that will assist environmental/design of future projects

Establish a path of success for future projects

Establish material needs and cost estimates
Identify funding options through stakeholder coordination
Environmental document class of action calls for projects, based on analysis and agency coordination

Analyze impacts of, and support need for development and access to Ear Mountain

How can the site be developed and how much material is available?
How much will access cost with refined alternatives?
How can construction be phased/sequenced to best leverage available funding while maintaining stand-alone project utility?
Project Status
The team is currently working on drafting the structure of the PEL and initiating stakeholder engagement. Field work including bathymetric survey and cultural resource surveys are anticipated to occur in summer 2019, with a final PEL document complete by April 2020. It is important to know that initiating work on projects is not necessarily contingent on completion of the PEL. Our team is committed to working with stakeholders to allow PEL data collection and findings to save time and resources in initiating infrastructure projects for the Shishmaref community. Please contact us ( albert.beck@alaska.gov ) with any questions or comments pertaining to the PEL.