Richardson Highway MP 266-341 Passing Lanes
Project Number 0A23021/Z607150000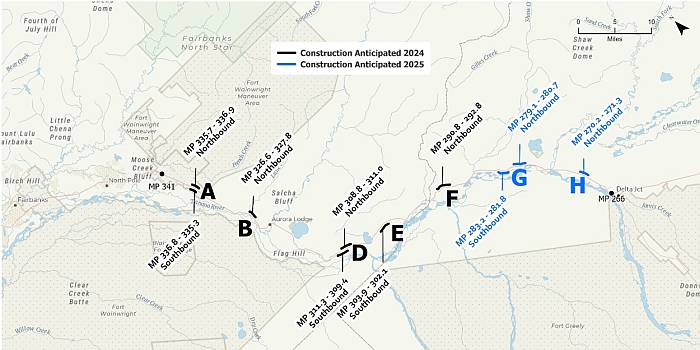 The Alaska Department of Transportation and Public Facilities (Department) has begun a project to select and design passing lanes on the Richardson Highway between Delta Junction and North Pole (Mileposts 266 to 341).
The purpose of the project is to improve safety and enhance commercial and recreational use. This project conforms to the implementation of Alaska's Strategic Highway Safety Plan to reduce head-on collisions where passing opportunities are limited.
Passing lanes are effective in improving highway capacity and safety on two-lane highways. Passing lane locations are considered where the traveling public is likely to encounter slower vehicles. The purpose of these lanes is to reduce aggressive driving behavior where, in the absence of a passing lane, passing would have to occur in the opposing traffic lane.
Project Scope
The Department selected HDL Engineering Consultants (HDL) to provide an analysis of the highway, recommend passing lane locations, and survey the corridor for wetlands. Once the final passing lane locations are selected, HDL will assist the Department with design of the passing lanes.
Project Status
The team just completed a draft Route Selection Report and will begin soliciting comments from users at public meetings in mid-November 2016. See Documents to download and review the Draft Route Selection Report
6mb.
Schedule
Field work is anticipated in summer of 2017. It is very likely construction of the passing lanes will be completed in two phases. Phase I would include construction of passing lanes between Eielson AFB and Birch Lake (milepost 341 to milepost 306). Phase II would include construction of passing lanes between Birch Lake and Delta Junction (milepost 306 to milepost 266). The earliest construction could begin in 2019. The construction date is dependent on many factors including possible right-of-way acquisition, utilities relocation, permitting, and the availability of funding.
Public Involvement
If you have ideas, concerns, or information you'd like to share about the project area and proposed improvements, please let us know. Click here to send an email. Project documents will be posted as they become available.