HSIP: Airport Way/Steese Expressway Reconstruction

Project No. 0002(385)/NFHWY00245
NEW: Skip ahead to learn about our proposed design!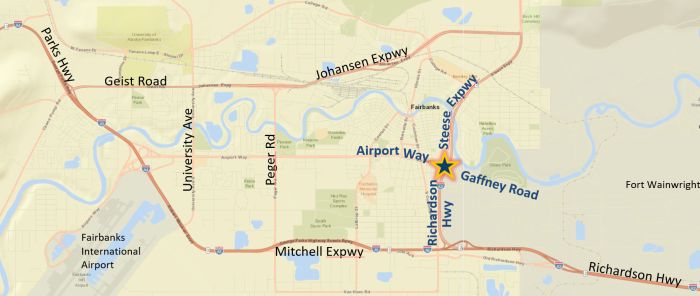 Intersection of Gaffney Road (to the east), Airport Way (to the west), Richardson Highway (to the south)
andSteese Expressway (to the north). We refer to this as the GARS intersection.
We are working to refine design concepts to improve safety at the intersection of Gaffney Road, Airport Way, Richardson Highway, and Steese Expressway (GARS) near the Fort Wainwright Gate in Fairbanks, Alaska.
The purpose of this project is to reduce the high incidence of crashes at this intersection. In doing so, this project will also address current and future congestion and capacity issues, helping to get you through this busy intersection faster and more safely.
The existing intersection is regularly in the top 10 of all intersections in Fairbanks for total number of crashes within a five-year period. It has the fifth-highest number of total injury crashes. It's also Fairbanks' second busiest intersection after the Geist Road/Johansen Expressway intersection, with 35,000 vehicles per day.
New Design Concepts - Why Not an Interchange?
Our first round of public meetings in 2018 looked at the possibility of building an overpass with a bridge (interchange) that would elevate Richardson Highway / Steese Expressway traffic over Airport Way and Gaffney Road (going into Fort Wainwright). The project team is now looking at solutions to improve safety at this intersection that do not require building a bridge. Why?
It's all about getting the biggest benefit from the money we receive.
The federally-funded Highway Safety Improvement Program (HSIP), which is where we're getting the money for this project, gives Alaska about $50 million per year for construction to improve safety on our roads.
Building a bridge for Steese Expressway traffic at this intersection would cost at least $40 million.
That 80% of all the money Alaska receives in a year to improve safety on our roads spent on just one project.
If we use that entire pot of money (or maybe more) to build a bridge for Steese Expressway traffic, other important safety projects won't get built.
For example, we would like to build more passing lanes on our highways. Passing lanes make our roads safer for you and your family, and make your drive more comfortable.
Other safety projects like that would have to be put on hold if we spend all our money for the year on a bridge at this intersection.
There are lots of important projects out there that would improve safety on roads all across our state.
When we look at what projects should be built every year with the funding we receive, we're looking at all these needs all across the state.
Big, expensive projects like the original concepts for this intersection can get delayed in order to make way for these other important safety projects.
Looking at these other solutions that cost less money make this project more likely to be funded and constructed more quickly.
In trying to develop solutions that were more affordable, we also tried to address some of the comments we heard from the public, such as maintaining access between 10th Avenue and the Steese Expressway, which is especially important to businesses and emergency responders.
In February 2020 we presented two lower-cost design options at a public meeting that improved intersection operations and safety while eliminating the need for a bridge or overpass. Both options addressed the local business and public concerns and reduced the amount of private property needed to construct the project.
We've selected our preferred design and now we want to hear what you think about it.
The Proposed Solution: Continuous Flow Intersection Median U-Turn (CFI-MUT)
This innovative design is different than anything else in Fairbanks, but it's a relatively cheap fix that we can build more quickly with no need for additional private property, all while maintaining access at 10th Avenue and retaining more existing vegetation. Intersections like this have been proven to work in other snow states and we have a lot of features in the design to make sure you can navigate it easily, even in the winter. See an aerial view and read more about a CFI-MUT here.
Better yet, check out our video simulations that show what it will be like to drive through all parts of the intersection. The videos will show you that while this looks complicated from the air, it will make sense to drivers on the ground.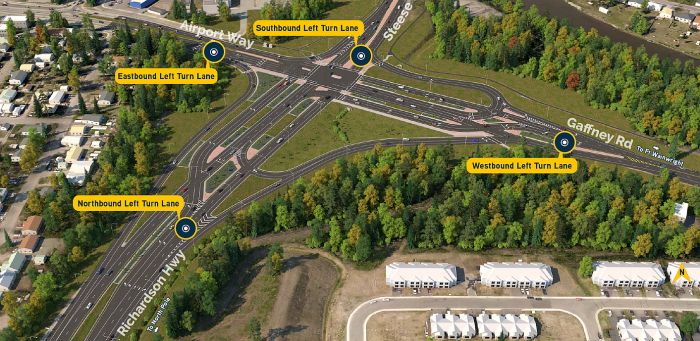 Safety and Mobility. This design will get you through the intersection faster than you're getting through it now. The intersection hasn't received any significant updates since 1978. The high volume of traffic is slowing drivers down and causing more crashes than we normally see at similar intersections. Even though this design looks different than a traditional intersection, all the signals are timed in a way that ensures drivers will not be waiting at red lights as much as they are now so they get through faster.
Operation. This intersection is not like any other intersection we have—it's an innovative solution unique to this location. Other states that get lots of snow have successfully constructed intersections like this that are getting people through faster and more safely. Things we are evaluating incorporating to ensure smooth operation:

Pavement markings with quiet rumble strips, high-traction pavement, intentional signs, and medians will ensure that you will understand where to go while you're driving through, even in the winter.
We are developing a snow plow plan to ensure snow is removed as efficiently as possible. This project will also add much-needed snow storage and turn-around areas for plows that will help snow removal operations.
We are planning to add birch trees, landscaping, and wayfinding signs that will make this intersection look much nicer than it does now.
Pedestrians will navigate the intersection similar to how they do today, not any further.
Next Steps
An online public open house is planned for April 2021. Our project team is available to answer any questions you have and we want to hear your comments. Construction on this project is expected to begin in 2022.
This project is being developed in cooperation with the Alaska Division of the Federal Highway Administration. While developing this design concept we have also worked closely with Ft. Wainwright, the City of Fairbanks, Emergency Services personnel, the trucking industry and other community interest groups in Fairbanks to get their concerns addressed.
Now we want to hear from you on what you think of the CFI-MUT concept. Please contact us! Don't forget to check out the video simulations!