Dalton Highway MP 18-37 Reconstruction
Project No. Z607350000/0652017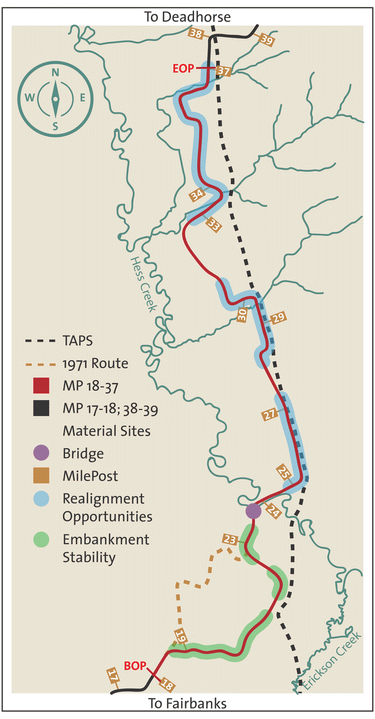 Project Background
The Dalton Highway is designated as a rural principal arterial and provides the only vehicle access from Fairbanks to Deadhorse, serving as a critical supply route between commerce and industrial centers. The project is needed due to sub-standard road geometry and failing embankment sections on this key economic link for the state of Alaska.
Project Purpose
The purpose of this project is to upgrade the Dalton Highway to enhance safety, performance, and reduce DOT&PF's maintenance costs. This project will reconstruct the Dalton Highway between MP 18 and MP 37, including drainage improvements, widening, and replacement of Hess Creek Bridge. The existing alignment has steep grades and sharp horizontal curves, resulting in lost time and added cost to the approximately 60% truck traffic on the route. Maintenance has identified several locations along the route that result in significant annual maintenance costs.
Project Scope
The project proposes to reconstruct the Dalton Highway between MP 18 and 37 (19 miles). Specific work includes:
Embankment stability improvements between MP 18 and MP 23
Highway realignments (vertical and horizontal) where deficient roadway geometry does not meet 50 mph design speed standards
Replacement of the Hess Creek Bridge (MP 24)
Updated signing and guardrail
Current Status
The project is currently in the preliminary design and environmental phase. Construction is anticipated to start in 2020.