Kotzebue to Cape Blossom Road

76844/NCPD-0002(204)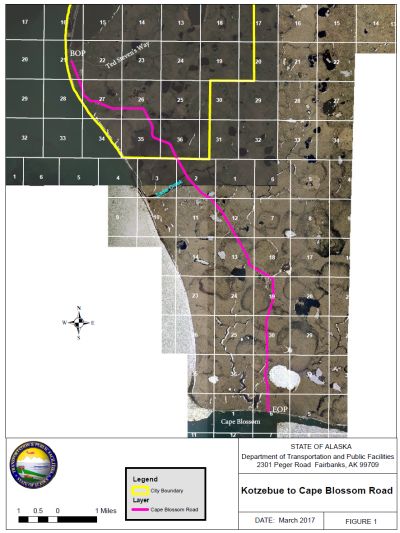 The Project would construct a gravel road from Kotzebue, Alaska, south across the Baldwin Peninsula to a beach access area near Cape Blossom. Kotzebue is the transportation hub and the largest of the 11 communities in the Northwest Arctic Borough (NWAB). Approximately 5,000 tons of freight is barged into Kotzebue each year, of which about 2,000 tons is transferred to NWAB villages. This freight includes semi-perishable goods, basic construction supplies, and vehicles such as cars and all-terrain vehicles, but does not include fuel or materials and supplies for capital projects. The proposed Cape Blossom Road would be designed for commercial freight transport and recreational uses with an estimated volume of 100 vehicles per day or less. It would be designed to adhere to the American Association of State Highway and Transportation Officials (AASHTO) Guidelines for Geometric Design of Very Low-Volume Local Roads. The AASHTO guidelines consider low-volume roads to be those with an average daily traffic volume of less than 400 vehicles. The Project will construct a two-lane gravel road approximately 11.2 miles long, with a road surface width of 24 feet and side slopes 3:1 or steeper. Turnouts with ramps down to the tundra would be constructed along the road near traditional trail crossings and potentially in other areas.
Project Status
The project has completed the required environmental documentation under the National Environmental Policy Act (NEPA). The initial EA and Finding of No Significant Impact (FONSI), as well as a 2017 EA Re-Evaluation outlining several minor design revisions, are available on the project documents page. All project permits, including USACE Section 404/10 Permit, have been completed and can also be found on the project documents page
The next steps are to finalize Right of Way acquisitions with the United States Air Force, and complete the final plans and specifications for construction. Preliminary Design Plans can be found on the State of Alaska DOT&PF Tentative Advertising Schedule, located at the following link http://dot.alaska.gov/procurement/awp/awp-tas.cfm
DOT&PF intends to advertise this project for construction in Summer 2020. See the Project Schedule for more detail. Construction of the Cape Blossom Road would be phased to complete construction as additional funding becomes available.
DOT&PF encourages all stakeholders and the public to use this web site to:
provide any new input to our project team; and
remain up to date as the project moves forward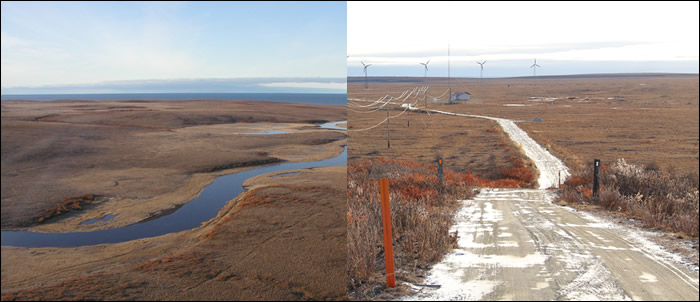 Left: Sadie Creek, Right:Road leading to the KEA wind turbine farm