South Tongass Highway Rehabilitation: Deermount Street to Surf Street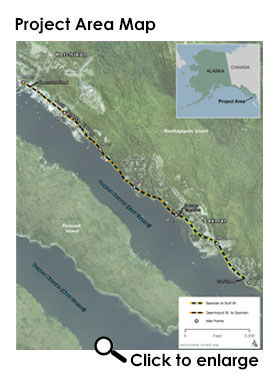 Project Description
The Alaska Department of Transportation and Public Facilities (DOT&PF) 1 will rehabilitate the South Tongass Highway between the communities of Ketchikan and Saxman from Deermount Street to Surf Street, approximately 3 miles.
As of December 2017, the project team completed the required environmental review and DOT&PF approved environmental document. The environmental review included coordination with multiple stakeholders and agencies to evaluate cultural, natural, and social impacts.
Geotechnical reconnaissance concluded over the summer of 2017 which encompassed rock slope drilling, pavement coring and shoreline mapping. Preliminary reports and recommendations from the geotechnical program are currently being developed for final design usage. Progress for Phase I design will continue through 2019, as well as the process for acquiring property necessary for construction.
Please check this project website regularly as we will update information as the design progresses.
1. The environmental review, consultation, and other actions required by applicable Federal environmental laws for this project are being, or have been, carried out by DOT&PF pursuant to 23 U.S.C. 327 and a Memorandum of Understanding dated November 3, 2017 and executed by FHWA and DOT&PF.