South Tongass Highway Rehabilitation: Deermount Street to Surf Street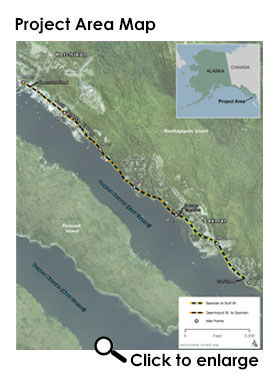 Project Description
The Alaska Department of Transportation and Public Facilities (DOT&PF) 1 is working to rehabilitate about three miles of South Tongass Highway and related non-motorized facilities from Deermount Street to Surf Street.
The South Tongass Highway Rehabilitation project would improve operations and provide improved movement of vehicle, bicycle, and pedestrian traffic.
Status
DOT&PF is progressing on the South Tongass Highway Rehabilitation Deermount Street to Surf Street project. The project team is continuing design and will move into the right-of-way phase this winter/spring. Construction is anticipated to start in 2021. Visit the Schedule page for a timeline of the project.
Over the past year, DOT&PF spent extra time engineering a road to minimize future rockslides in areas with steep cliffs. Work included extensive geotechnical analysis and road design.
Other project design activities include:
Coordination with the City of Saxman and Ketchikan Gateway Borough on new sewer and water utilities.
Development of retaining wall designs, technical rock cut designs, and 65% design review documents.
Design for the Joseph C. Williams, Sr., Coastal Trail to create a continuous pedestrian pathway.
Please check this project website regularly as we will update information as the design progresses.
1. The environmental review, consultation, and other actions required by applicable Federal environmental laws for this project are being, or have been, carried out by DOT&PF pursuant to 23 U.S.C. 327 and a Memorandum of Understanding dated November 3, 2017 and executed by FHWA and DOT&PF.