Southeast Alaska Transportation Plan Scoping Process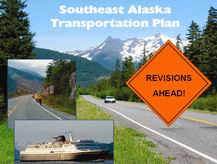 A Scoping Report was presented and a series of public meetings were held throughout Southeast Alaska to solicit comments to help prepare the Draft SATP. The report as well as highlights of the presentations and discussions for each meeting were summarized and are posted below. Written comments received via e-mail, mail, fax, or in-person are also posted.
The below documents are offered in PDF format.
Alternative Scoping Public Involvement Process
Written Public Comment Record
Public Meeting Summaries
2011 Public Meetings for the Scoping Report:
| Date | Community | Location | Open House | Public Meeting |
| --- | --- | --- | --- | --- |
| Sept 26 | Juneau | Centennial Hall (Hickel Room) | 6-7:00 pm | 7-8:30 pm |
| Sept 28 | Gustavus | Gustavus City Hall | 6-7:00 pm | 7-8:30 pm |
| Oct 4 | Yakutat | High School Auditorium | 6-7:00 pm | 7-8:30 pm |
| Oct 5 | Skagway | Skagway Assembly Hall | 6-7:00 pm | 7-8:30 pm |
| Oct 6 | Haines | Haines Assembly Chambers | 6-7:00 pm | 7-8:30 pm |
| Oct 6 | Hoonah | Hoonah City Hall | 6-7:00 pm | 7-8:30 pm |
| Oct 11 | Ketchikan | Ted Ferry Civic Center | 6-7:00 pm | 7-8:30 pm |
| Oct 11 | Kake | Council Chambers | 6-7:00 pm | 7-8:30 pm |
| Oct 12 | Craig | Craig City Hall | 6-7:00 pm | 7-8:30 pm |
| Oct 18 | Wrangell | Nolan Center | 5:30-6:30 pm | 6:30-8:30 pm |
| Oct 19 | Sitka | Centennial Hall (Maksoutoff Room) | 5:30-6:30 pm | 6:30-8:30 pm |
| Oct 20 | Petersburg | Petersburg City Council Chambers | 5:30-6:30 pm | 6:30-8:30 pm |
| Oct 24 | Angoon | Angoon Senior Center | 10:45-11:45 am | 12:30-1:45 pm |
| Oct 25 | Tenakee Springs | City Hall (teleconference) | NA | 10:00-11:30am |
| Oct 25 | Thorne Bay | Council Chambers | NA | 6:30-8:30 pm |
| Oct 26 | Hydaburg | Council Chambers | NA | 2:00-4:00 pm |
| Oct 26 | Pelican | Teleconference | NA | 10:00-11:30 am |
| Oct 26 | Klawock | City Council Chambers | NA | 6:00 -8:00 pm |
| Oct 27 | Coffman Cove | Council Chambers | NA | 7:00-8:30 pm |