Southeast Alaska Transportation Plan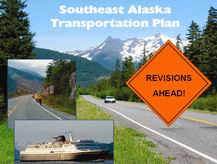 Public Involvement
ADOT&PF is holding a series of open houses and public meetings in Southeast Alaska to review the draft SATP and answer questions. Meetings are scheduled in the region's three largest cities (Juneau, Ketchikan, and Sitka) and others where the plan calls for a change compared to the current system.
Public Meeting Summaries
The below documents are offered in PDF
format.
Public Meeting Schedule for the Draft SATP Plan

DATE

WHERE

LOCATION

TIME: OPEN HOUSE

TIME: PUBLIC MEETING

Aug 6

Juneau

Centennial Hall, Hickel Rm

4:30-6:30 pm

6:30-8:30 pm

Sep 2

Angoon

Angoon Senior Center

10:30-11:30 am

noon-1:30 pm

Aug 13

Petersburg

Petersburg Assembly Chambers

5:30-6:30 pm

6:30-8:30 pm

Aug 20

Ketchikan

Ted Ferry Civic Center, Neets Rm

5:30-6:30 pm

6:30-8:30 pm

Aug 20

Sitka

Centennial Hall, Maksoutoff Rm

5:30-6:30 pm

6:30-8:30 pm

Aug 25

Kake

Kake Council Chambers

5:30-6:30 pm

6:30-8:30 pm

Sept 9

Skagway

Skagway Assembly Chambers

5:30-6:30 pm

6:30-8:30 pm

Sept 10

Haines

Haines Assembly Chambers

5:30-6:30 pm

6:30-8:30 pm