Southeast Alaska Transportation Plan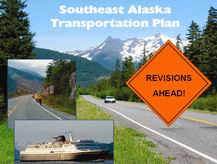 Formal Notice
NOTICE:
State of Alaska
Department of Transportation and Public Facilities
Southcoast Region
Revision of the Southeast Alaska Transportation Plan
Parts of plan to be updated: The entire 2004 plan will be updated, beginning with a review of existing mission, goals and objectives.
Scope of the plan: The plan will review private and public transportation infrastructure in Southeast Alaska, and how it relates to population and economic trends, transportation service demands, changes in technology, and economic development projects.
General plan for public involvement: This revision will extensively use internet resources to facilitate education of and communication with the public, facilitating public involvement throughout development. People who do not have computer access can request hard copy notice through the mail at the address below. There will be regional meetings in Juneau, Sitka and Ketchikan for presentation and review of the draft 2008 Southeast Alaska Transportation Plan.
Contact Information
Department of Transportation and Public Facilities
Southcoast Region Planning
P.O. Box 112506
Juneau, AK 99811-2506
(907) 465-4445
(800) 575-4540
Fax: (907) 465-2016
(888) PLAN-FAX (752-6329)
dot.satp@alaska.gov
dot.state.ak.us/satp/
This notice provided IAW 17 AAC 05.135