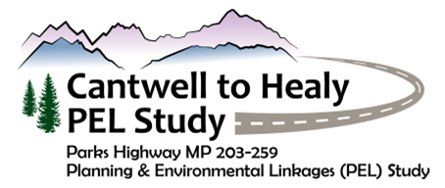 Project No. NFHWY00492
Welcome
The Alaska Department of Transportation and Public Facilities (DOT&PF) in partnership with the Federal Highway Administration (FHWA) Western Federal Lands (WFL) and the National Park Service (NPS), are working together to identify potential future transportation and access improvements along the Parks Highway corridor (mileposts [MP] 203 and 259) between Cantwell and Healy.
The study team is conducting a Planning and Environmental Linkages (PEL) study that will look at current and future conditions and needs of transportation and access facilities along the Parks Highway corridor as it relates to the users and communities in the areas between Cantwell and Healy.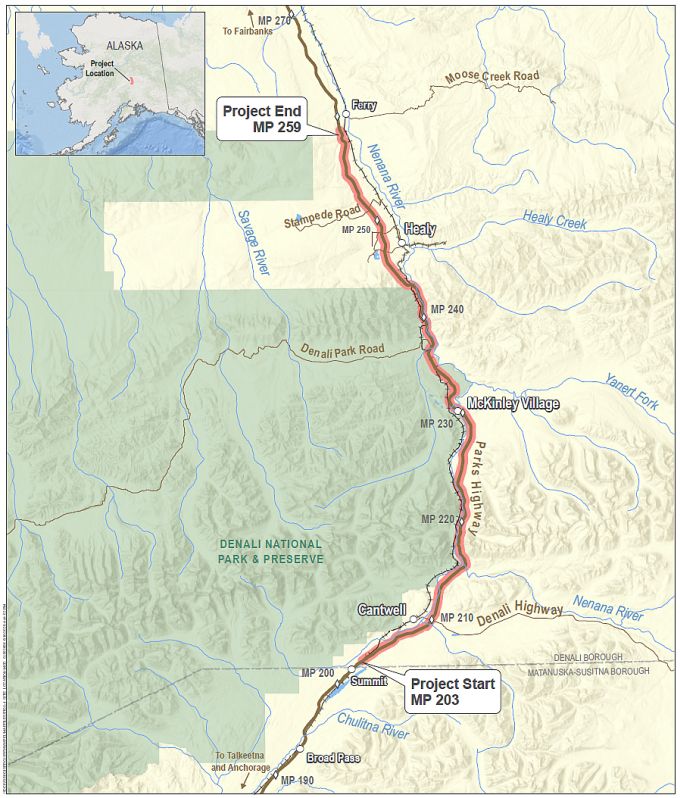 Background
This PEL Study process will bring together regional, community, and local stakeholders for a comprehensive multi-modal look at recent, active, and future improvements along the interstate highway corridor. Stakeholders, such as the DOT&PF, Denali National Park and Preserve, Denali Borough, Alaska Railroad, Native groups, local businesses, and the public will come together to identify current and future needs within the study area.
The study area corridor covers the mileposts between 203 and 259, beginning just north of Broad Pass and extending north to the turnoff for the community of Ferry, including the only road-accessible entrance to Denali National Park at MP 237. The area expects a 1-2% yearly increase in traffic and it currently experiences high volumes of commercial traffic (buses, vans, tractor trailers, and vehicles with boat trailers) as well as increased pedestrian and vehicle traffic during the tourist season (May to September).
This area is a focal point for visitors to the State of Alaska, the Denali area, and specifically for visitors to Denali National Park. Recurring comments from visitors and locals have centered on the need for improved access to trailheads and improved bike and pedestrian facilities in high-use areas to mitigate perceived safety concerns along the corridor.
Study Purpose and Goals
The purpose of the study is to provide a framework for implementing future transportation improvements. A PEL Study moves our ideas from the planning process directly into the environmental review process.
Desired outcomes include:
A clear and actionable PEL Study that guides future enhancements and development on the Parks Highway corridor.
A PEL process that brings together regional, community, and local stakeholders for a comprehensive multi-modal look at recent, active, and future improvements along this interstate highway corridor.
PEL Study goals include:
Collect, compile, and analyze information about the conditions and concerns along the corridor to support the identification of individual projects.
Conduct field studies (archaeology, condition reports, maintenance concerns, public concerns) and compile data already collected (crash information, deficient curves, bridge conditions) that will focus the areas of greatest attention and anticipate future needs to address.
Develop and evaluate possible solutions to the concerns identified.
Identify projects, termini, costs, and range needed to effectively address concerns in a timely manner.
Schedule

The PEL Study started in early 2020 and is expected to take almost two years. The PEL process and study will be conducted in consultation with the public, stakeholders, and federal and state resource agencies and tribes. A public meeting will be held during each phase.
The three main phases of the study include:
Assessing needs and opportunities
Developing conceptual improvement options
Preparing a PEL Study
The final PEL Study provides a framework for implementing future transportation improvements along the corridor.
A project advisory committee (PAC) will also be established to provide guidance and input throughout the study duration. The PAC will consist of representatives from DOT&PF, FHWA, NPS, tribes, Denali Borough, local communities, other public agencies, trucking industry, railroad industry, tourism businesses, local businesses, non-motorized users, and environmental groups.
Project Status
The Study Team will provide public notice in advance of the first public meeting in summer 2020. Currently, the Project Advisory Committee formed and over the spring will participate in two virtual meetings. Our team is committed to working with stakeholders to allow PEL data collection and findings to save time and resources in initiating infrastructure projects for the involved communities.