Dalton Highway MP 305 to 335 Reconstruction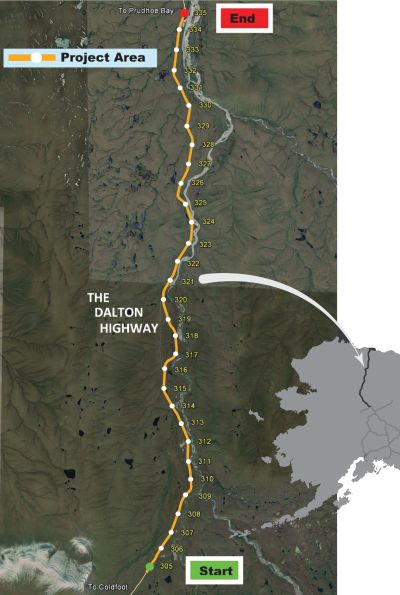 The Alaska Department of Transportation & Public Facilities (ADOT&PF), in cooperation with the Alaska Division of the Federal Highway Administration (FHWA), is proposing to reconstruct the Dalton Highway between milepost (MP) 305 and 335.
Project Purpose
Improve safety,
Reduce maintenance costs.
Project Scope
This project proposes to reconstruct the Dalton Highway between MP 305 and MP 335 including:
Re-grading and widening including rebuilding the road section to handle heavy traffic loads without seasonal load restrictions,
Improvements to deficient roadway geometry such as flattening curves and grades,
Replacing the Dan Creek Bridge near MP 331,
Constructing new turnouts,
Improving drainage through ditching, new culverts, and replacing existing culverts,
Reconstructing approaches,
Upgrading signing and delineators.
Construction is anticipated to begin in 2020.
Project Status and Schedule
The project team completed a tour of the project area in mid-September 2015. The project survey was completed in 2016, and geotechnical investigations are ongoing. The team is currently working on preliminary design work, geotechnical investigations, and environmental documentation.