FOR IMMEDIATE RELEASE: November 15, 2012
No.: 12-2609
ADOT&PF Opens Illinois Street and Veterans' Memorial Bridge
Project opens 10 months early, two-way traffic is restored in downtown Fairbanks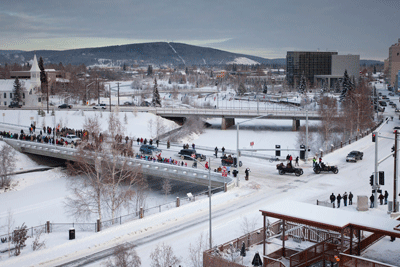 (FAIRBANKS, Alaska) –The Alaska Department of Transportation and Public Facilities (ADOT&PF) opened the Illinois Street Reconstruction project with a ceremony Nov. 12.
The celebration included a procession of antique cars carrying Fairbanks-area veterans driving southbound through the project. A 1910 Chalmers Detroit, a 1916 Gibson Dodge and a 1932 V-16 Cadillac were provided by Fountainhead Antique Auto Museum, and a 1916 Model T-Ford was provided by Bill Chace.
Fort Wainwright soldiers presented the colors on the Veterans' Memorial Bridge, in front of local dignitaries, veterans and community members. The procession of antique cars then drove through a ribbon, officially opening the bridge, before heading to the Morris Thompson Cultural and Visitors Center where the ceremony concluded with a program of distinguished speakers.
Speakers included ADOT&PF Northern Region Director Steve Titus, P.E., U.S. Sen. Mark Begich, City of Fairbanks Mayor Jerry Cleworth, Fairbanks North Star Borough Mayor Luke Hopkins, HC Contractors President Bill Hoople, Big I Pub and Lounge owner John Jackovich, and U.S. Fish and Wildlife Service Deputy Field Supervisor Jimmy Fox.
ADOT&PF asks the public to use caution and drive slowly through the newly opened Illinois Street Reconstruction project area as drivers get used to the new traffic patterns, intersections and flashing yellow arrow signals.
In 2013 the following items will be completed: Noyes Slough Bridge replacement, Illinois Street and College Road intersection reconstruction, landscaping, and pedestrian and bike paths along the Chena River. Total construction cost is $23.6 million.
Photos of the event are available on ADOT&PF's Flickr page: http://www.flickr.com/people/akdotpf/
The Alaska Department of Transportation and Public Facilities oversees 255 airports, 11 ferries serving 35 communities, 5,619 miles of highway and 720 public facilities throughout the state of Alaska. The mission of the department is to "Get Alaska Moving through service and infrastructure."
# # #