FOR IMMEDIATE RELEASE: October 30, 2012
No.: 12-2604
8th Annual Customer Service Awards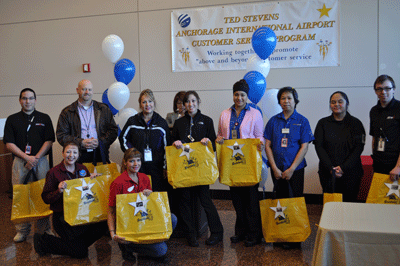 (Anchorage, Alaska) – The 8th Annual Customer Service Awards Ceremony was held October 25, 2012 at the South Terminal of Ted Stevens Anchorage International Airport. The ceremony recognized 19 stars of the Airport's Customer Service Program for their above and beyond commitment to customer service.
The winners are: Rose Dunleavy, Alaska Airlines; Becky Nelson, FedEx; Ebony Ramos, Cinnabon & Yogurtland; Tammy Fairbanks, HMS Host; Michelle Daigle, Conoco Phillips/Shared Services; Leao Faamago, Republic Parking; Madeline Nanthalaksa, Cinnabon & Yogurtland; Yesenia Saenz, Enterprise Rent-A-Car; Kris Hwang, HMS Host; Sheila Lopez, HMS Host; Ofiela Kennedy, Hudson Group; Linda Griffin, FedEx; Tausili Faamansino, Republic Parking; Lynn Salvador, Era Alaska; Kyle Whisman, Era Alaska; Susan Scherrer, HMS Host; Reuben Edwin, Republic Parking; Faith Evans, HMS Host; and Anton Szender, InMotion Pictures.
"This is a great way to thank the folks who make travel through the airport a great experience," said John Parrott, Airport Manager. "These are the people who have first and last contact with our visitors, and they are committed to providing excellent service from curbside to airplane. We offer our congratulations to the winners of the customer service awards, and thank the sponsors of the program for their continued support."
The Customer Service Partnership was formed in 2004 by the airport and participating airport businesses. In the years since it was formed, the partnership has grown to over 30 member businesses representing all aspects of airport business: concessions, airlines, car rental agencies, and cargo companies.
Monthly winners are selected from Mystery Shopper evaluation forms and company nominations. At the end of the year, all the monthly winners are gathered at the Customer Service Awards Ceremony, where each receives a gift bag and are entered to win additional prizes.
The Alaska Department of Transportation and Public Facilities oversees 255 airports, 11 ferries serving 35 communities, 5,619 miles of highway and 720 public facilities throughout the state of Alaska. The mission of the department is to "Get Alaska Moving through service and infrastructure."
# # #