FOR IMMEDIATE RELEASE: September 26, 2012
No.: 12-2591
Safe Routes to School Dedicates Path in Naknek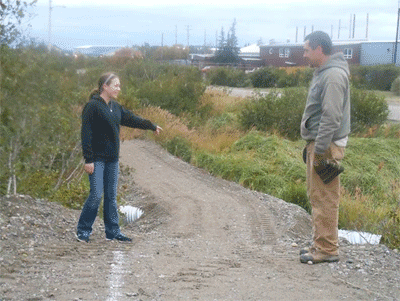 (NAKNEK, Alaska) –The Salmon Run Fitness Trail and Bike Path will be dedicated on Friday, September 28 at noon at the Bristol Bay School in Naknek, Alaska.
In 2008, eight-year old Isabel Babiak, envisioned a safe walking trail to her school. She pursued her dream and with support from her classmates, community and many agencies to see the Sockeye Run Fitness and Bike trail created.
"We needed a safe place for my friends to walk to school. Safe Routes to School helped make this happen," said the now 11 year old Babiak. "There's a lot of planning in planning a plan!" said added.
The 2.3 mile path connects the school, clinic, pool, Senior Center, Community Center, athletic fields, and scenic viewpoints plus it also has activities stations built in along the way. For instance a variety of playground equipment is interspersed to add interest and additional exercise options such as chin ups or crawling on monkey bars. The equipment and freight to get it to this community of 544 was all donated.
The community project is intended to inspire healthy lifestyles in this rural area. It also shows how citizens can come together and create a special place for physical activity. "The community volunteered hundreds of hours," said Department of Transportation and Public Facilities Commissioner Marc Luiken, "that was matched with a $30,000 National Park Service community match grant; a $50,000 state recreational trails grant and $92,000 from DOT&PF's Safe Routes to Schools program. What is amazing is the amount of community collaboration that had to take place in planning and executing this project. It's a great example of what state, federal and community partnerships can do."
Others who helped make this project possible besides Isabel Babiak include: Bristol Bay Borough, Bristol Bay School District, Naknek Elks Club, Alaska Department of Transportation and Public Facilities Safe Routes to Schools Program, Alaska Department of Natural Resources Division of Parks and Outdoor Recreation, Katmai National Park and Reserve, U.S. Army Corps of Engineers, Alaska Chapter of the American Society of Landscape Architects.
The Alaska Department of Transportation and Public Facilities oversees 255 airports, 11 ferries serving 35 communities, 5,619 miles of highway and 720 public facilities throughout the state of Alaska. The mission of the department is to "Get Alaska Moving through service and infrastructure."
Contacts:
Steve Soenksen, Safe Routes to School Coordinator, (907) 465-4069, steve.soenksen@alaska.gov
Jack Walsh, Bristol Bay Borough Superintendent to Schools, (907) 246-4225, jwalsh@naknek.bbsd.schoolaccess.net
# # #