FOR IMMEDIATE RELEASE: September 26, 2012
No.: 12-2590
DOT&PF's Kotzebue Shore Avenue Protects Community from Storm Surges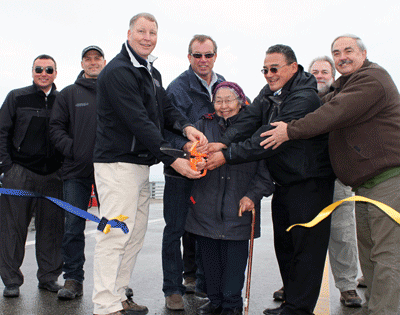 (KOTZEBUE, Alaska) – Kotzebue Shore Avenue, one of the Department of Transportation and Public Facilities' (DOT&PF) largest projects, officially opened Thursday, Sept. 20, with a ribbon cutting ceremony.
The project was a DOT&PF priority because beach erosion frequently reduced the previous Shore Avenue to less than two lanes, forcing the road onto adjacent property. In addition to damaging important Kotzebue infrastructure such as the post office, store, restaurant and hotels by exposing them to storm damage, emergency vehicles had limited access to some properties.
"It was common to see ice and water against the buildings on Shore Avenue," DOT&PF Commissioner Marc Luiken said. "DOT is proud to be a part of making this corridor safer for Alaskans and improving infrastructure in Kotzebue."
The new two-lane road was officially named Sikiagruk Shore Avenue. Sikiagruk was the Inupiaq name of the late Alaska Sen. Al Adams, a strong advocate for the project. Shore Avenue now has a stabilized shoreline to mitigate effects of storm surges and accommodate vehicle and pedestrian traffic.
"We didn't know that we would test this project so quickly," Kotzebue Mayor Eugene Smith said. "But just a few weeks ago storms brought water near the top of the road. The erosion protection held and when the water receded, we went about our business."
The project included reconstructing and paving 4,400 feet of Shore Avenue, armoring the tidewater side of the road with a combination of sheet pile and large rock, installing street lighting, a sidewalk, space for parallel parking and a bicycle lane.
Alaska Interstate Construction, LLC of Anchorage began construction on the $42 million project in 2009. Shore Avenue reconstruction was funded by federal earmarks, the American Recovery and Reinvestment Act, STIP funding and the State of Alaska.
The Alaska Department of Transportation and Public Facilities oversees 255 airports, 11 ferries serving 35 communities, 5,619 miles of highway and 720 public facilities throughout the state of Alaska. The mission of the department is to "Get Alaska Moving through service and infrastructure."
Photos of Kotzebue Shore Avenue and the ribbon cutting ceremony are available on the DOT&PF flickr stream at http://www.flickr.com/photos/akdotpf/.

# # #