FOR IMMEDIATE RELEASE: August 9, 2012
No.: 12-2574
National Aviation Day – August 19th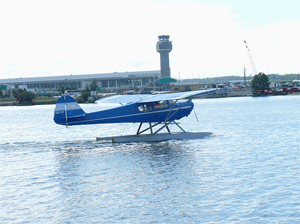 (ANCHORAGE, Alaska) –National Aviation Day is observed on August 19th each year to celebrate the history and development of aviation. It coincides with the birthday of Orville Wright, who made the first sustained, powered flight in 1903 in a plane he and his brother Wilbur built. This twelve-second flight led to the development of the first practical airplane in 1905, and launched the worldwide efforts to build better flying machines.

According to Department of Transportation and Public Facilities (DOT&PF) Deputy Commissioner of Aviation Steve Hatter, the department proudly recognizes this historic day. "Alaska's air history is rich and exciting. Today, aviation still plays a vital role in the lives of our citizens with 82% of our communities not connected to a highway or road system, he said. "I encourage everyone to learn more about aviation and its importance to our state."

DOT&PF Division of Statewide Aviation produced a video illustrating how aviation serves as a lifeline to rural Alaska. The video can be viewed at these links: http://vimeo.com/39894638 and http://www.youtube.com/watch?v=TDGw09IuApE

Organizations promoting aviation history include the Alaska Aviation Museum in Anchorage and the Pioneer Air Museum in Fairbanks. There are also websites with activities and art contests for kids.
The Alaska Department of Transportation and Public Facilities (ADOT&PF) oversees 254 airports, 11 ferries serving 35 communities, 5,619 miles of highway and 720 public facilities throughout the state of Alaska. The mission of ADOT&PF is to "Get Alaska Moving through service and infrastructure."
# # #