FOR IMMEDIATE RELEASE: July 9, 2012
No.: 12-2565
Stickel Wins Prestigious Dr. L.I. Hewes Award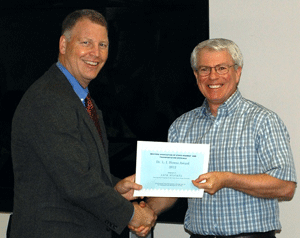 (JUNEAU, Alaska) – Jack Stickel, Alaska Department of Transportation and Public Facilities (DOT&PF) Transportation Information Group Manager, was honored today by his peers at the Western Association of State Highway and Transportation Officials (WASHTO) annual conference in Colorado Springs, Colorado by winning the prestigious Dr. L. I. Hewes Award.
The award recognizes a recipient's outstanding contribution to the highway development program in the Western Region of the United States.
"This is only the second time that an Alaskan has won this award," said DOT&PF Commissioner Marc Luiken. "It is a huge honor for Jack and for the department."
Mr. Stickel's leadership skills are an accumulation of over 20 years in developing solutions to meet DOT&PF's transportation data requirements. His current position oversees the department's Transportation Information Group that is in charge of collecting and analyzing the statewide data for highway safety, traffic, traveler information, road weather services, and asset management – all of which are both state and federal requirements.
Along with overseeing numerous statewide projects, Mr. Stickel has fostered partnerships with numerous local, regional, federal and Canadian organizations. These partnerships allow for the sharing of data that mutually benefits each organization and, in turn, provides more efficient and reliable information for the traveling public.
Mr. Stickel's work can be viewed across the entire state from weather cameras and sensors along to Klondike Highway to mobile phones when checking Alaska 511 for current weather and driving conditions.
The Hewes Award was created in 1951 by Western Construction magazine, a journal devoted to engineering and construction in the western states, to honor Dr. Hewes, a Deputy Commissioner for the Bureau of Public Roads – a precursor to the Federal Highway Administration (FHWA). Hewes was one of the prime organizers of WASHTO and "his superlative contributions in every phase of highway engineering gave great impetus to western highway development."
The Alaska Department of Transportation and Public Facilities (ADOT&PF) oversees 254 airports, 11 ferries serving 35 communities, 5,700 miles of highway and 660 public facilities throughout the state of Alaska. The mission of ADOT&PF is to "Get Alaska Moving through service and infrastructure."
# # #