FOR IMMEDIATE RELEASE: June 29, 2012
No.: 12-2562
Airport Police and Fire Department Welcomes Xxylon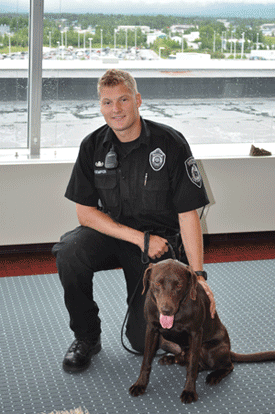 (Anchorage, Alaska) – The Airport Police and Fire Department is pleased to announce a new member of the family. Welcome Xxylon, a two-year-old male chocolate Labrador Retriever!
Officer William Kemper and Xxylon, have been training at a comprehensive academy at Lackland Air Force Base in Texas for the last 10 weeks. At the conclusion of the academy, Officer Kemper and Xxylon were honored with the Top Dog Award, which is given to the team that shows daily improvement, takes steps to better the canine and training, and performs best on searches.
Xxylon now begins his new career working as a full time police dog with his own law enforcement credentials. In his off-time, he will stay at home with Officer Kemper. ANC began employing K9 units in 2002. The dogs are provided by the Transportation Security Administration (TSA) and are explosives detection canines. They are capable of detecting multiple varieties of and smallest amounts of explosives.
"We're thrilled to have another K9 unit join our team," said Chief of Police and Fire, Jesse Davis. "From the beginning of the program, the dog and handler teams have been a tremendous asset to our department, helping to improve safety in aviation with minimal impact on the flying public."
The Airport Police and Fire Department employs over 60 people, including certified officers and administrative staff. Anchorage Airport Police Officers are state police officers certified by the Alaska Police Standards Council. Their rigorous training and qualifications includes completion of the Alaska State Trooper Policy Academy and field training. In addition, all officers are cross-trained as state firefighters, a unique combination crafted to serve the population served by the Ted Stevens Anchorage International Airport.
The mission of the Airport Police and Fire Department is to "Protect life and property by providing professional police, firefighting, and emergency medical services We dedicate ourselves to the Alaskan community through Honor, Courage, and Integrity."
The Alaska Department of Transportation and Public Facilities (ADOT&PF) oversees 254 airports, 11 ferries serving 35 communities, 5,700 miles of highway and 660 public facilities throughout the state of Alaska. The mission of ADOT&PF is to "Get Alaska Moving through service and infrastructure."
# # #