FOR IMMEDIATE RELEASE: March 13, 2012
No.: 12-2519
Alaska Awarded $291,000 for Safe Routes to Schools Projects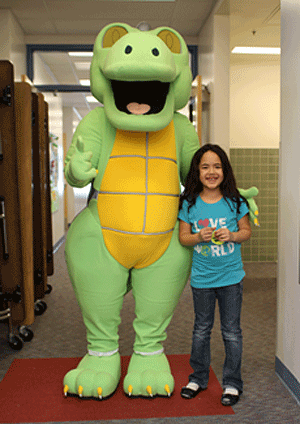 Alaska Safe Routes to School mascot Reflectosaurous.
photo by Meadow Bailey, Alaska DOT&PF
(Juneau, Alaska) – The Alaska Department of Transportation & Public Facilities (DOT&PF) is honored to announce the most recent recipients of the Federal Safe Routes to School (SRTS) Grant Program.
Single Project Grants
$2,000 – Chugiak/Eagle River Chamber of Commerce: Bear Paw Festival Bike Rodeo
Infrastructure
$40,000 – City of Fairbanks: Install two flashing warning beacons near Barnette Magnet School
$65,000 – City of Fairbanks: ADA compliant sidewalk on Hamilton Avenue
Planning Grants
$9,000 – Haines Borough: Finalize Safe Routes to Schools Action Plan
$35,000 – City of Palmer: Develop a SRTS Plan for five elementary and two middle schools
$65,000 – Soldotna Police Department: Planning for citywide SRTS Plan
$75,000 – Mat-Su Borough: Planning for borough wide SRTS Plan
The goal of the SRTS Program is to increase the number of children safely walking and biking to school by empowering communities to make these activities a safe and routine activity once again.
Today, fewer than 15 percent of all school trips are made by walking or bicycling, one-quarter are made on a school bus, and over half of all children arrive at school in private automobiles. The decline in walking and bicycling has led to increased obesity and public health concerns, traffic congestion, poor air quality and decreased pedestrian and bicycle safety around schools.
"Communities are using SRTS to plan and improve local infrastructure and make it safer around schools," said Steve Soenksen, Alaska SRTS Coordinator. "We congratulate these communities and others working on SRTS projects and activities."
SRTS makes funding available for a wide variety of programs and projects, from building safer street crossings to establishing programs that encourage children and their parents to safely walk and bicycle to school together.
The Alaska SRTS Program is currently accepting grant applications through May 30, 2012. Eligible recipients include state, local and regional agencies, tribal and nonprofit organizations.
Visit dot.alaska.gov/saferoutes to learn more about the Alaska SRTS Program.
The Alaska Department of Transportation and Public Facilities (ADOT&PF) oversees 254 airports, 11 ferries serving 33 communities, 5,700 miles of highway and 660 public facilities throughout the state of Alaska. The mission of ADOT&PF is to "Get Alaska Moving through service and infrastructure."
# # #