FOR IMMEDIATE RELEASE: March 1, 2012
No.: 12-2516
DOT&PF Celebrates Weights and Measures Week
Division of Measurement Standards: Ensuring Fairness in the Marketplace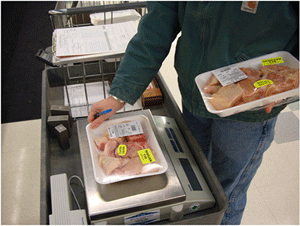 March 1-7 is National Weights and Measure's Week, during this week we recognize the key role of weights and measures inspectors in maintaining consumer confidence. Inspectors check the accuracy of all devices from grocery store scales to gas pumps. In this photo, an inspector is verifying the accuracy of packaging at an Alaskan grocery store. (Photo by Alaska DOT&PF)
(Anchorage, Alaska) —The Alaska Department of Transportation & Public Facilities (DOT&PF), Division of Measurement Standards & Commercial Vehicle Enforcement (DMS&CVE) is recognizing National Weights and Measures Week, March 1-7.
DMS&CVE is the invisible third party in commercial transactions involving weighing and measuring devices; businesses and consumers alike rely on accurate weights and measures.
National Weights and Measures Week calls attention to the quiet, but systematic efforts of the small staff of Weights and Measures Inspectors. Divided between Anchorage, Juneau and Fairbanks, 10 inspectors travel throughout the state to perform annual inspection and testing of weighing and measuring devices used in commerce. These devices include gas pumps and grocery store scales, as well as the industrial capacity scales and meters used in construction, freight transport and in the fishing industry.
The mission of the DOT&PF Division of Measurement Standards & Commercial Vehicle Enforcement is to provide equity in the marketplace through accurate trade measurements. Division staff specifically:
Monitor how commodities are sold to assure compliance with regulations
Check prepackaged products to guarantee that pricing is based on contents, not packaging
Test and inspect a variety of scales used to weigh everything from spices to railroad cars
Test and inspect different types of fuel meters, from the gas station to the refineries
Check shelf tags to ensure price accuracy at all retail stores
Investigate consumer complaints
Compile accurate data to aid prosecution of habitual offenders
"We strive to maintain public market place confidence by ensuring that trade measurements are accurate and appropriate," said Dan Breeden, DMS&CVE Director. "We recognize consumers must be able to trust that when they purchase a gallon of gas, they are receiving a gallon of gas."
For more information on DOT&PF DMS&CVE visit: www.dot.alaska.gov/mscve.
The Alaska Department of Transportation and Public Facilities (ADOT&PF) oversees 254 airports, 11 ferries serving 33 communities, 5,700 miles of highway and 660 public facilities throughout the state of Alaska. The mission of ADOT&PF is to "Get Alaska Moving through service and infrastructure."
# # #