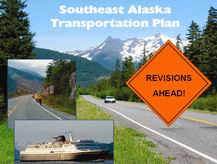 Southeast Alaska Transportation Plan
The Department of Transportation and Public Facilities has completed a Draft of the updated Southeast Alaska Transportation Plan (SATP). In 2011 the Department wrapped up a series of public meetings in which a Scoping Report was presented. The new Draft SATP takes into account the comments received in the scoping process, additional economic analysis, and transportation modeling.
The draft can be found at the Draft Plan link below. If you would like us to mail a copy to you, you can request one by e-mailing dot.satp@alaska.gov . The Department will continue to consider public input as we work toward the final update of the plan.
Please send comments on the Draft SATP by September 30, 2014, to:

Mail: ADOT&PF – Southeast Region Planning
P.O. Box 112506
Juneau, Alaska 99811-2506
Fax: 907-465-2016
SUBMIT COMMENTS TO THIS EMAIL ADDRESS:
ADOT&PF is holding a series of open houses and public meetings in Southeast Alaska to review the draft SATP and answer questions. Meetings are scheduled in the region's three largest cities (Juneau, Ketchikan, and Sitka) and others where the plan calls for a change compared to the current system.
Public Meeting Schedule for the Draft SATP Plan

DATE

WHERE

LOCATION

TIME: OPEN HOUSE

TIME: PUBLIC MEETING

Aug 6

Juneau

Centennial Hall, Hickel Rm

4:30-6:30 pm

6:30-8:30 pm

Aug 13

Angoon

Angoon Senior Center

10:30-11:30 am

noon-1:30 pm

Aug 13

Petersburg

Petersburg Assembly Chambers

5:30-6:30 pm

6:30-8:30 pm

Aug 20

Ketchikan

Ted Ferry Civic Center, Neets Rm

5:30-6:30 pm

6:30-8:30 pm

Aug 20

Sitka

Centennial Hall, Maksoutoff Rm

5:30-6:30 pm

6:30-8:30 pm

Aug 25

Kake

Kake Council Chambers

5:30-6:30 pm

6:30-8:30 pm

Sept 9

Skagway

Skagway Assembly Chambers

5:30-6:30 pm

6:30-8:30 pm

Sept 10

Haines

Haines Assembly Chambers

5:30-6:30 pm

6:30-8:30 pm