Old Steese Highway Reconstruction
Project Number: Z624870000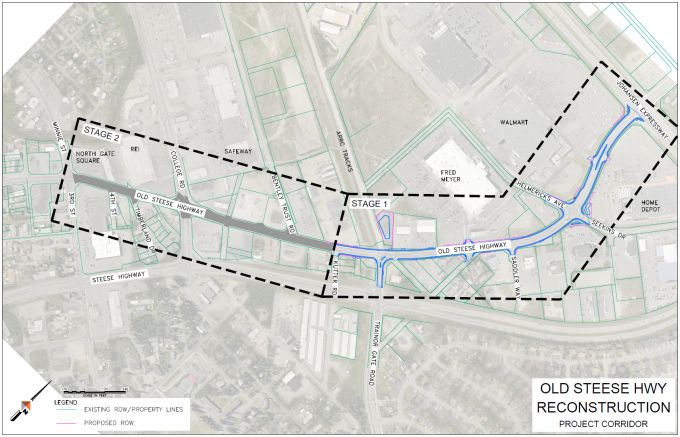 Project Corridor 6MB
Project Description
The Alaska Department of Transportation & Public Facilities (ADOT&PF) proposes to upgrade the Old Steese Highway between the 3rd Street and Johansen Expressway intersections. 
The purpose of the project is to improve traffic flow and safety for motorized and non-motorized users along the corridor.  Proposed project improvements include:
Sidewalk widening and ADA improvements
Addition of roadway shoulders, traffic through, right and left turn lanes
Traffic signal and street lighting upgrades
The project has been broken into two segments (stages):
Reconstruct the road between Kutter Road intersection to the Johansen Expresseway intersection.
Re-pave the road between the 3rd Street intersection to the Kutter Road intersection
In preparation for the construction projects, ADOT&PF is currently finalizing the horizontal roadway geometry to determine Right-of-Way (ROW) needs.  Then we will begin the process of acquiring additional ROW needed for the project.
Current Milestones:
2021-2023 acquire Right-of-Way
Winter 2021/2022 Environmental Document approved
Winter 2022/2023 Preliminary Design
Fall 2023 Final Design
Spring 2024 Begin Construction