Transient Aircraft Parking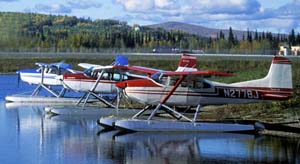 Wheel and ski transient parking is available in rows 11 - 14 of the paved parking ramp in front of the Tower.
Electrical parking row 23.
Transient float spaces are available on the northeast end of the float pond, 160-163.
Transient aircraft parking is also available in the air-park, located at the north end of Taxiway Charlie.
Maps of these areas are listed below:

Fees
Transient aircraft parking fees are $10.00 per day for paved and float spaces, and $15.00 per day for spots with electricity (south side, row 23). Air-park spaces are $10.00 per day, including the day of arrival and the day of departure. Payment envelopes and collection boxes are located in the pilot's lounge at the base of the air traffic control tower, at the south end of the float pond, or in the air-park.

Contact Information
Operations Office
Melissa Osborn, Chief of Operations
907-474-2550
907-474-2512 (fax)
email FAI Operations
Airport Badging & Permits
5195 Brumbaugh Boulevard
Fairbanks, Alaska 99709
907-474-2500
email FAI Operations

Questions?

email FAI Operations