Research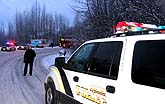 Traffic Safety Statistics
National, State, Regional, and Local traffic safety statistics.
Note: The Alaska Highway Safety Office is responsible for traffic fatality data. The DOT&PF Strategic Investment Section

is responsible for the Highway Analysis System (HAS) which houses all State motor vehicle traffic crash and traffic injury data.
Traffic Safety Publications
Links to a wide variety of highway safety publications.