Motor Vehicle Crash Data
Transportation Data Programs maintains the State-wide database of motor vehicle traffic crashes that occurred on public roads and publishes crash statistics in annual reports summarized by crash information, information about the people involved, and vehicle information.
Crash information is collected from the Alaska State Troopers, local police departments, or the accident participants. The data is analyzed by traffic and safety engineers to improve highway planning, design, construction, and maintenance to improve highway safety.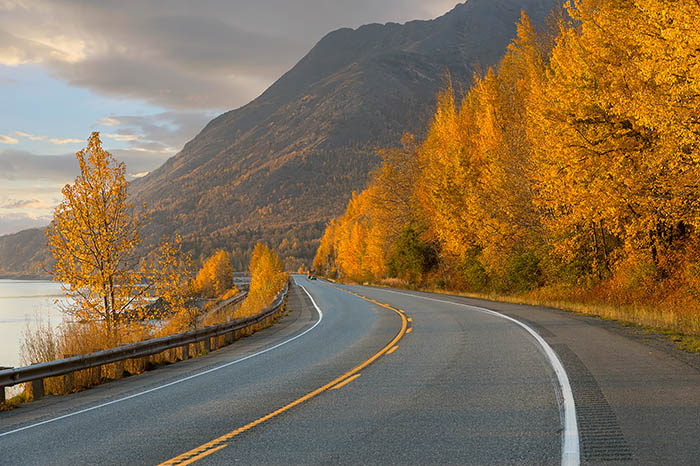 Fall view of Seward Highway.
Photo by Dave Krause, Alaska DOT&PF

How Crash Data is Used
Crash data is critical information for the Strategic Highway Safety Plan (SHSP), the Fatality Analysis Reporting System (FARS), the Highway Safety Improvement Program (HSIP), and the Center for Safe Alaskans.
Crash data starts with a motor vehicle crash. If law enforcement is at the scene, they will fill out an official crash report. If it is a minor crash with no injuries or major damage to a vehicle, law enforcement will instruct the driver(s) to fill out a driver report. All crash forms go to the Division of Motor Vehicles and a copy is given to the DOT&PF Transportation Data Programs section for entry into a central database, the Crash Data Entry System (CDES). Once confirmed in the CDES, it is uploaded to the Alaska Crash Analysis & Reporting application where Traffic & Safety Engineers and Crash Data Team staff can query and filter crash data, analyze the data, and create custom reports.
Fatal crashes are reported by the Alaska Highway Safety Office and reporting into the Fatality Analysis Reporting System database.
Regardless of severity, all crashes eventually end up in the CDES.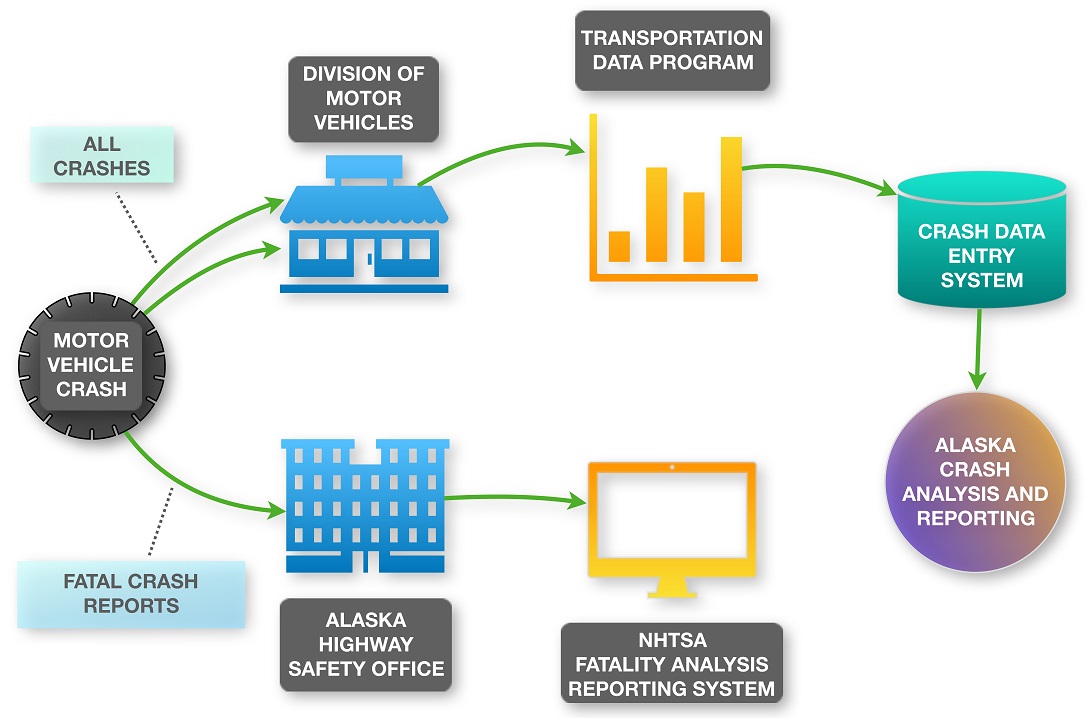 Annual Crash Reports
Reports are in PDF format unless otherwise noted. If you save the report to your computer, make sure the download is complete before you open the file. For reports after 2011, please contact the Crash Data Manager
For questions on this page, please contact: Strategic Investment Section Contacts