Mendenhall Loop Road Capacity Improvements
(Nancy Street to Back Loop Road) Project #67622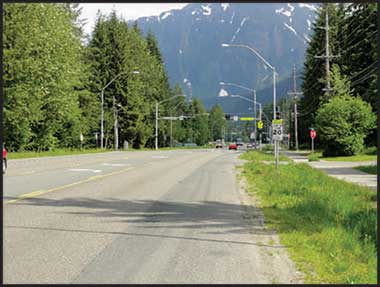 Project Description
Due to funding constraints, this project's construction scope has been scaled back. As part of the preferred alternative presented to the public, DOT will be constructing two roundabouts. One will be at Mendenhall Loop Road and Stephen Richards Memorial Drive, and the other will be at the Floyd Dryden intersection. As funding becomes available, the rest of the project proposed under the preferred alternative will be pursued.
See Construction Information
DOT&PF and DOWL have advanced the project design to the preferred alternative for the proposed Mendenhall Loop Road Capacity Improvement Project.
Public Comments are welcome
The section of Mendenhall Loop Road From Nancy Street to Back Loop Road (Location Map) serves as the spine of the Mendenhall Valley. It forms the major commute route to and from Egan Drive and the shopping areas along Glacier Highway and Mendenhall Mall Road. In addition, Many of the residents in the Mendenhall Valley use or cross Mendenhall Loop Road by bicycle or on foot to go to school or access public transit service.

As traffic volumes on Mendenhall Loop Road have grown, drivers have experienced increasing difficulty accessing the road from the side streets during the directional peak traffic flows. Vehicle volumes are forecast to increase, exacerbating these issues and necessitating additional roadway and intersection capacity.

In addition, pedestrian and bicycle crossings can be challenging during peak periods, particularly at crossings between the Glacier Valley Elementary School and the Floyd Dryden Middle School and the student residences on the west side of Mendenhall Loop Road. A pedestrian overcrossing was removed a few years ago, and further crossing treatments would improve non-motorized safety and efficiency along the corridor.

The purpose of this project is to identify feasible, cost effective improvements on Mendenhall Loop Road that meet the future multimodal travel needs of the surrounding community's residents, businesses, and institutions.
Project Funding
This project is funded via Bond funds. In 2012 the Alaska State Legislature approved the Alaska Transportation Projects Bond Question to be placed on the November ballot. The measure allowed for a general obligation bond to be issued for the purpose of transportation projects in the state and was proposed to not exceed approximately $454 million. The ballot measure was approved by voters in November 2012.
The Mendenhall Loop Road Capacity Improvements project was approved for $6 million of the total bond amount. In January 2016 DOT&PF transferred $4.5 million of the GO Bond Authority allocations from the Glacier Highway, MP 4-6 Improvements project to the Mendenhall Loop Road Capacity Improvements project. The current total bond funding is $10.5 million."