Iways Projects
Teleoperated & Automated Maintenance Equipment Robotics
Thompson Pass, near, near Valdez frequently receives snowfalls of 45 feet or more. The resulting avalanches frequently close the Richardson Highway. There are merely six hours of daylight during the darkest of the winter months, which means cleanup activities happen during times of very low visibility.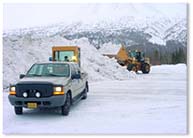 The teleoperated & automated maintenance equipment robotics (TAMER) is a remote controlled front end loader that permits nighttime avalanche cleanup and promotes safety in avalanche and rockslide areas. Since TAMER is remotely controlled, it keeps ADOT&PF maintenance personnel out of the avalanche danger during cleanup. TAMER uses a simulated virtual cab environment which includes a three dimensional color video/audio feedback system that duplicates the operators on-board visual environment. This simulated environment enables the operator to control the front end loader remotely during cleanup without being in harms way of a potential avalanche
Deployment Schedule:
ADOT&PF deployed TAMER in 2002 in the Valdez area.
Contact
Ocie Adams
ADOT&PF, M&O


(907) 465-6940


ocie.adams@alaska.gov
Questions about the Iways program or website?
Lisa Idell-Sassi


dot.iways@alaska.gov


907-465-8952