Iways Projects
Maintenance Management System
The Alaska Department of Transportation & Public Facilities has successfully developed and deployed a highway maintenance management system (MMS). MMS is used to assist maintenance personnel perform highway maintenance activities and allow for efficient management of resources. It involves a series of financial, management, and technical procedures and includes:
A procedures manual defining the engineering specifications and "how to"

A computerized system that tracks highway maintenance activities
How is it used?
Each maintenance crew follows the "how to" procedures detailed in the procedures manual, which describes the labor, materials, and equipment required; safety and environmental precautions to be taken; and the expected accomplishments for each maintenance activity. The details of work performed are recorded and entered into a computerized database. ADOT&PF uses laptops in the cabs of maintenance vehicles to accomplish this. Maintenance managers use this information to make decisions about expenditures, material usage, equipment usage, and productivity. It ensures all maintenance work is regularly monitored and measured, and adjustments and corrections are made when necessary.
What are the benefits?
Deliver a proper and adequate level of service

Standardize costs of repair and maintenance

Manage maintenance expenditures

Manage material and equipment usage

Manage productivity of maintenance crews

Capture and report the work needs to maintain/preserve highways, buildings, airports, floats and docks

Save dollars by performing the tasks in a specified manner and only where needed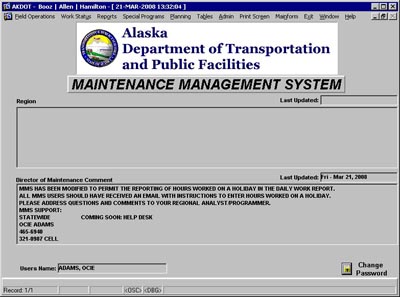 Contact
Ocie Adams
ADOT&PF, M&O


(907) 465-6940


ocie.adams@alaska.gov

Page last updated: 2/22/2012
Questions about the Iways program or website?
Lisa Idell-Sassi


dot.iways@alaska.gov


907-465-8952